Ongoing struggle with Albany Utilities' high light bills leads to more protests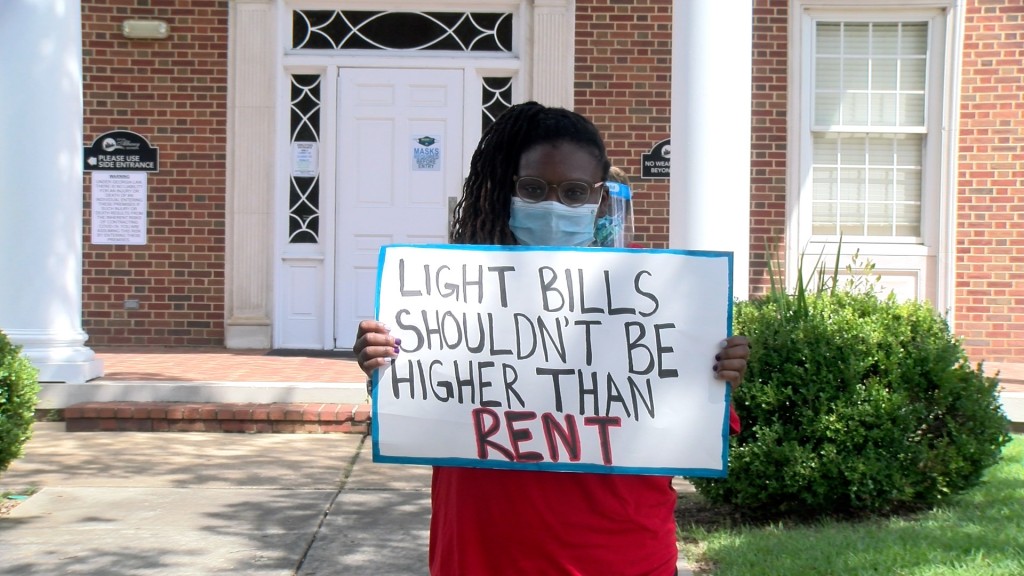 ALBANY, Ga. – Armed with signs, megaphones and high light bills, some Albany residents took to the streets Tuesday afternoon, demanding to be heard.
"We have to sit at the table together with people on the lower class that are working poor. That are working all the hours that they can to pay power bills that are higher than their rent," says social ecologist James Pratt Jr.
It's been four weeks now that the organization, Georgia 9to5, submitted a petition to Albany Utilities. They're demanding cut-offs be suspended, late fees waived and utility board meetings be more accessible. The petition has attracted over 200 signatures.
"We have built the demands and now they must listen, so keep fighting, keep being powerful keep using the energy to get these light bills down," says Pratt.
The organization is also asking the city to consider the effect COVID-19 has had on residents. Some protesters have said the virus has caused financial hardship.
"There is something that must be done, not just for me but for the rest of the citizens of Albany that cannot afford to pay the utility bills," says Albany-Dougherty County NAACP President Kiaira Jackson, "Light bills should not be more than rent. You should not have to make decisions about whether or not you're going to fund the place where you lay your head or be able to turn on the lights when you walk in the door, we will no longer stand by."
In response to the protests officials with the city say:
"Albany Utilities is aware that some customers are having a difficult time paying their

utility

bill and may be in need of assistance due to hardships as a result of the ongoing pandemic. Over the last seven months, Albany Utilities has implemented measures to assist customers while sustaining business.

In March, Albany Utilities suspended disconnections of services and late fees until June 1, due to the COVID-19 pandemic. A COVID-19 HOPE Emergency Fund, created by the City, in the amount of $200,000, was administered to 1,000 customers. We have received, from local agencies, more than $500,000 in

utility

assistance vouchers to help pay bills. Extensions are still being offered to those who qualify."
The Mayor and utility staff will be meeting with the protesting organization this week to discuss the proposal they provided to the Albany Utility Board.
**UPDATE**
After meeting with the leadership of Albany Utilities Thursday to discuss the demands of the petition representatives of Georgia 9to5 say:
"We appreciate their willingness to hear our concerns and discuss solutions, and look forward to finding more ways to bring relief to the residents of Albany. However, we will continue to push and advocate to the City Commission and Utilities board for solutions, and demand justice for residents who have been suffering from high light bills in this city for too long. Albany needs change, and our residents deserve lower light bills."
You can follow the organization's activity by following them Facebook.