Albany Museum of Art welcomes back members on July 9
The museum will reopen its exhibitions to the public on July 17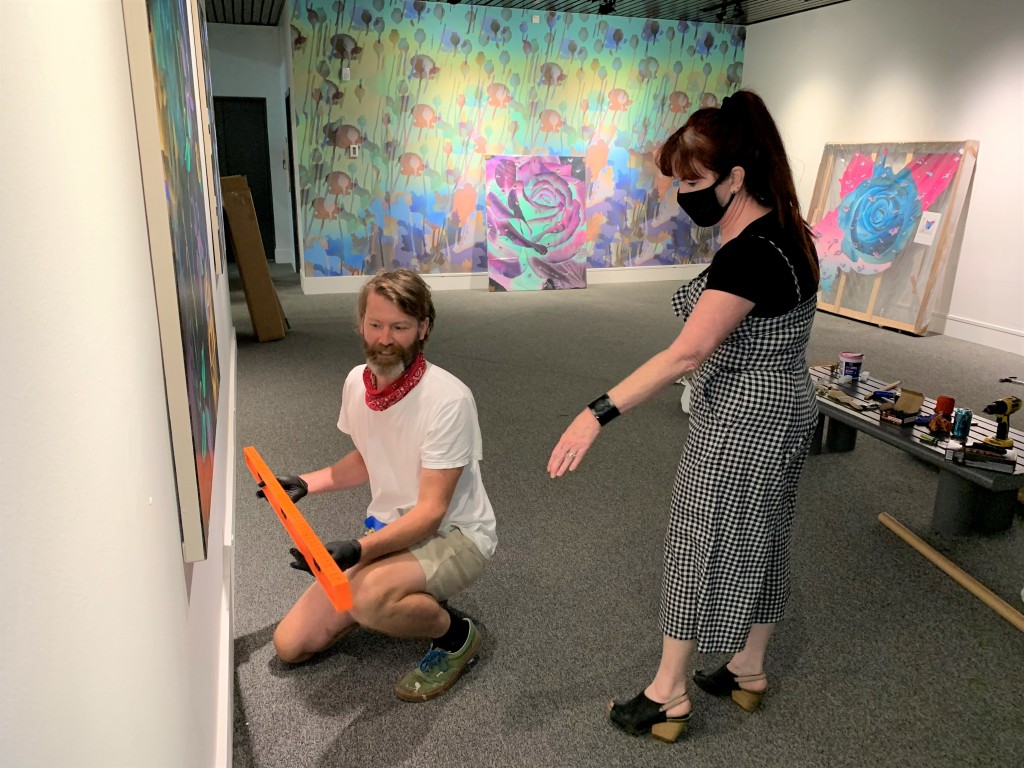 ALBANY, Ga. – The Albany Museum of Art will reopen Thursday, July 9, 2020, for a special AMA Members Week that will include the first views of three new exhibitions.
Opening Thursday will be JUAN LOGAN: creating & collecting in the Haley Gallery; works by Brian Willmont in the East Gallery, and Viberations from Pasaquan, works by Eddie Dominguez, Martha Clippinger and St. EOM, in the West Gallery.
"We are excited to be able to reopen in a way that emphasizes the safety of our members, guests and staff," AMA Executive Director Andrew James Wulf, Ph.D., said. "I am also thrilled to be able to present these wonderful new exhibitions. March 18, the day we closed to members and visitors because of the COVID-19 pandemic, seems like ages ago."
Creating & collecting includes both original work by Logan, of Belmont, N.C., and works by other artists, including Jasper Johns and Elizabeth Catlett, that he has in his Logan Family Collection. Logan's work investigates American culture, asking piercing questions that prompt the viewer to take ownership in a role of making the world a better place.
Willmont, of Brooklyn, N.Y., creates art that embraces sleek perfection and decorative beauty while exhibiting an underlying cynicism.
Viberations of Pasaquan includes works by the late Eddie Martin, who later changed his name to St. EOM and founded Pasaquan, a seven-acre art environment near Buena Vista, Ga., and works by two artists inspired by St. EOM—Eddie Dominguez of Lincoln, Neb., and Martha Clippinger of Columbus.
"Because of social distancing and current guidelines from health officials, we shall not have a traditional opening reception for the exhibitions," Wulf said. "We will miss celebrating with our friends and visiting artists, but we are happy to be able to share this compelling art with our members and the community."
Museum hours will be the same as they were before the pandemic—10 am-5 pm Tuesdays-Fridays and noon-5 pm Saturdays.
The museum will open to the public on Friday, July 17. Admission is free.
"We wanted to do something special for our members, and we thought this was a nice way to say thank-you for staying with us during this widespread health crisis," Wulf said. "We have been fortunate in that many of our members chose to renew and even upgrade their memberships during this period of uncertainty. Our members have again demonstrated their love for the arts and their recognition for the importance of the work the museum does for the community. We are humbled and appreciative."
 AMA Members Week is the second phase of the reopening. On June 22, summer art camps, which had been conducted online since Memorial Day, returned to in-person camps at the AMA. Camp sizes were limited and safety measures were enacted to ensure safety of campers and staff.
"Our camps went smoothly and I believe everyone involved had a great time," Wulf said. "Our campers did well in complying with the safety measures, such as wearing masks. Unfortunately, we could not see all the smiles under their masks, but we knew they were there!"
Here are changes that members and guests to the museum need to know:
Masks must be worn by anyone 3 years old or older.
A staff member will check the guest's temperature with a no-contact thermometer at entry.
By entering the building, guests are confirming they have no symptoms and have not encountered anyone who has tested positive for COVID-19 in the previous 14 days.
Guests must provide at least six feet of space for anyone in the museum who is not in their party.
No cash sales will be conducted at the museum. Memberships, rentals and purchases will be conducted only with credit or debit cards.
Guests are asked to use hand sanitizer at the museum as needed.
Occupancy of the museum will comply with federal, state and local recommendations.
Changes to visitation policies may occur if federal, state or local guidance changes.
"We shall frequently clean contact surfaces and restrooms to further minimize any potential issues," Wulf said, "And shall continue to ensure the Albany Museum of Art continues to be a safe space where art may be enjoyed and experienced. We shall do all we can to promote the safety of our members, guests and staff."