TOM FERGUSON, ATLANTA ARTIST AND MUSICIAN, PASSES AWAY
More than 250 Artworks by Tom Ferguson Are in the Albany Museum of Art Permanent Collection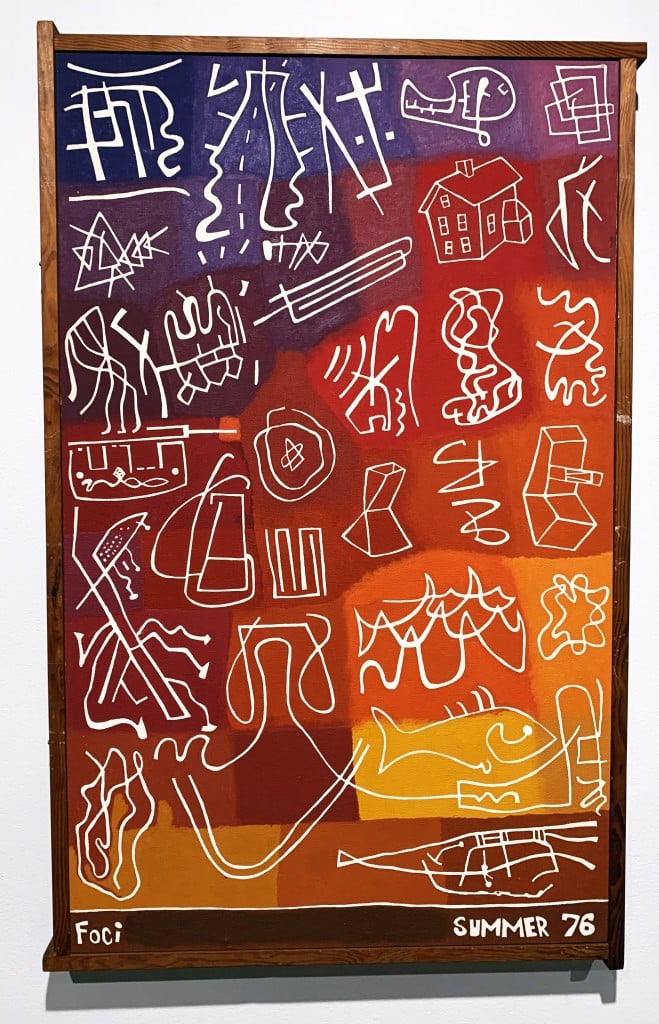 ALBANY, Ga. ─ The Albany Museum of Art is mourning the passing of Tom Ferguson, the Atlanta-based painter, political cartoonist, writer and musician who died earlier this month at age 76.
"We are greatly saddened by the passing of our friend, artist Tom Ferguson, who first showed at the Albany Museum of Art in the early 1980s," AMA Executive Director Andrew J. Wulf, Ph.D., said. "From the 1970s until 2010 when he retired from painting, Ferguson evolved as a dedicated artist with a singular vision. He was an idealist who championed creativity and promoted peace through all of his work, including his written pieces and music recordings."
Last fall, Ferguson gifted the Albany Museum of Art more than 250 artworks from his personal collection. A selection of those works, now part of the AMA permanent collection, are on exhibition through April 30, 2021 in the Hodges Gallery. Long-time AMA members and visitors may recall Ferguson's work was on exhibition at the AMA in 1984 and 1985, shortly after the museum opened at its current location at 311 Meadowlark Drive.
"From his most abstract work to his caricatures of the 'everyman,' Ferguson's work serves as an exemplar of High Modernism, from his expressive impasto technique to his delicate pictographs, revealing an authentic and visionary style all his own," Wulf said. "The AMA is honored to have in its collection numerous works from throughout the career of this important artist."
Born in 1944 in Marquette, Mich., Ferguson studied at the Layton School of Art in Milwaukee, Wis. He received his B.S. from Northern Michigan University in Marquette, and his M.F.A. from Michigan State University.
In describing himself and his work on his website, thinkspeak.net, Ferguson said, "I have labored periodically since art school to define art and painting. John Cage's notion that 'music is organized sound' translates well, I think, into 'painting is organized color.' Another satisfying idea for me is Joseph Campbell's statement, 'We don't seek meaning; we crave depth experience of reality.' An encounter with a painting can be just such an experience."
In a November 2020 video interview with Wulf, Ferguson reflected upon his life and career. The artist said he was most grateful for "the period between 1966 and the month before my diagnosis. That was a very pleasant time—not totally, 100%, but most of it very good."
Asked what he had learned from life, Ferguson said, "Well, I guess I would say in (Eckhart) Tolle's teachings he talks about—I said it on the book cover of one of my books; I said I discovered everything I needed to know, but remembering it is the problem. I think it's like Tolle's claim—we intuit this relationship with what he would call, I guess, evolutionary intelligence, and we're diverted from that by ego and his idea of 'pain body.' Preoccupation with mind chatter blocks us from being present, and present is our portal to connecting with that intelligence. That seems to be the most important thing I've learned."
Ferguson taught art at various schools, including Spelman College in Atlanta, the Atlanta College of Art and the Savannah College of Art and Design in Atlanta, as well as Northern Michigan University.
In addition to the AMA, his work can be found in numerous collections, including the High Museum of Art, Atlanta; the Institute of Art, Augusta, Ga.; the Zuckerman Museum of Art, Kennesaw State University, Kennesaw, Ga.; the Columbia Museum, Columbia, S.C.; the Morris Museum of Art, Augusta, Ga.; the University of Alabama, Paul R. Jones Collection of American Art; Northern Michigan University, Marquette, Mich., and the Heritage Center in Waycross, Ga. Ferguson, whose works also are in private collections, has shown in multiple group and solo exhibitions across the South.