Sanford reacts to passing of former U.S. Senator Max Cleland
Cleland passed away Tuesday morning at his home in Atlanta at 79 years old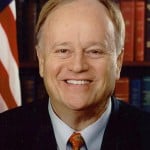 WASHINGTON, DC – Today, Congressman Sanford D. Bishop, Jr. (GA-02) issued the following statement in response to the passing of former U.S. Senator Max Cleland:
"Today, America lost a selfless public servant, Georgia lost a dedicated leader, and I lost a friend.
"Max Cleland was a son of Georgia who served America through one of our toughest military conflicts. He returned from that war bearing its scars — both visible and invisible. Yet, through his suffering, Max Cleland found purpose in public service.
"Whether it was through the state legislature, leading what is now the Veterans Administration, serving as Georgia's Secretary of State, or representing us in the U.S. Senate, Max Cleland was a dedicated leader who sought to improve the lives of those he served, especially his fellow veterans.
"I had the good fortune to work with Max as Georgia's Secretary of State, U.S. Senator, and Secretary of the American Battle Monuments Commission ensuring the memory of our fallen — across the globe — were remembered and honored.
"Though he may have passed in body, the legacy of Senator Cleland's indomitable spirit will live on in the lives of those he inspired and helped.
"We will miss him dearly but always feel his presence. God bless him and his family."