Pickle pizza is a "big dill" for upcoming fair
America's Finest Fair Food Found On The Strates Shows Midway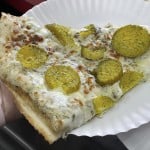 ALBANY, GA – It may not be the prettiest food on the midway, but "Pickle Pizza" will be one of the more unique foods scheduled to debut at the 2022 Southwest Georgia Regional Fair. Pickle Pizza joins other classic and innovative carnival meals on this year's midway culinary lineup.
"It's no surprise that Southwest Georgia fair fans love to eat! It's one of the top reasons why people attend the annual fall tradition," said Marty Biniasz, Manager of Marketing for the Strates Shows. "Along with Funnel Cakes, Deep Fried Oreos, a Foot Long Corn Dog and Frosted Flakes Chicken, Pickle Pizza will a MUST EAT in 2022."
Pickle Pizza is a featured item crafted by midway concessioners Doug and Laurie Dills… and yes "Dills" is their last name! The pie is made with hand tossed dough, a special dill flavored dressing sauce, fresh mozzarella cheese and dill seasoning. Layered on top are thin slices of bright green pickles. Fairgoers describe the taste as tangy, sweet and savory all in one bite.
"What sets Strates Shows midway food apart is the quality of the ingredients used and the freshness of the final product served to the Fairgoer," said Biniasz. "Most of the menu items are made to order in front of the customer. Additionally, due to the volume of product sold, new batches are always in production."
In addition to Pickle Pizza, this year's bill-of-fare ranges from time-honored carnival favorites to limited-edition, deep-fried novelty treats only found at the Fair.
It's a taste of "breakfast" anytime on the midway at the "Chicken On A Stick" concession located behind the Grandstand. Third generation carnival concessioners Doug & Lori Dills dip chicken fingers in batter, roll them in Frosted Flakes and drop them in the fryer. As "Tony The Tiger" says, "They're Great!"
Not satisfied with a standard sized Corn Dog? Fontana Foods features a giant sized, foot long corn dog at their location behind the Grandstand. Freshly dipped in batter and fried, corn dogs are the ultimate, traditional Fair food served on a stick.
Other Midway Food highlights include:
Funnel Cakes with Ice Cream, Dills Concessions. A fair favorite served with your choice of ice cream. The warmness of the cake combines with the cool topping to create a carnival snack that you'll want to share with friends and family.
Italian Sausage with Peppers & Onions, Fontana Foods. Slowly grilled on skilled of peppers and onions, this semi-sweet sausage has been served by Pal Fontana and family for over 40 years.
Deep Fried Oreos, Dills Concessions. Delectable Oreos are dipped in sweet batter and then fried, serviced with a sprinkling of powdered sugar.

The 2022 Southwest Georgia Regional Fair opens on October 25th and runs until October 30th. For more information visit www.ExchangeClubOfAlbany.org. The Fair is organized by the Exchange Club of Albany.

About the Strates Shows – The Strates Shows is a 99-year-old family-owned and operated outdoor amusement and carnival business with headquarters in Orlando, Florida. Founded in 1923 by Greek immigrant James E. Strates as the Southern Tier Shows in Elmira, New York, the Strates Shows is one of America's premiere providers of carnival midways. Over the decades, the Strates Shows has brought many innovations to the carnival industry, including cooperative promotions, a centralized ticket system, advance ticket sales, and the FunCard electronic ticketing system that utilizes bar codes to control access to carnival rides on the midway and provides seamless, transparent accounting to partners. The Strates Shows will celebrate its centennial year of operation in 2023.