Longtime local football coach Ferrell Henry remembered
The Colquitt native served from prep football sidelines to Crisp County Commissioner's Chair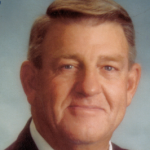 CORDELE, GA- South Georgia's prep football community is mourning with the death of Ferrell Henry, who passed away Saturday at Crisp Regional Hospital at 80 years of age.
Henry, who was born August 23rd, 1941 in Colquitt, was a 3 sport letterman at Miller County High before earning a football scholarship at Florida State University where he graduated.
In 32 plus years around South Georgia, Henry coached and taught at a number of schools such as Dougherty County, Worth County, Crisp County, Glynn Academy in Brunswick as well as Florida's Merritt Island High School.
He concluded his career in education with a ten year stint as Athletic Director at Dougherty County High before retiring.
Along the way, Henry was named Coach of the Year and Athletic Director of the Year among his many accolades. He was named to the Albany Sports Hall of Fame in 1999 as well as the Miller County Hall of Fame.
After education & sports, Henry tried his hand at local politics and enjoyed success as well, serving as a Crisp County Commissioner and as chairman from 2005-2008. Henry also served on the Crisp County Power Commission, Crisp County Board of Health, and was a member of the Board of Directors of Regions Bank. He was also a member of the Cordele Kiwanis Club and the Exchange Club of Albany.
Ferrell Henry is survived by his wife of 57 years Arleeta, and is preceded in death by the couple's lone daughter Kimberly Lynn Henry.
A celebration of life is set for Wednesday at 4pm at the Crisp County School System Auditorium.
A graveside service is set for Thursday afternoon at 3pm at Colquitt City Cemetery.