Good Life City unemployment inches upward
Albany sees rise in August jobless figures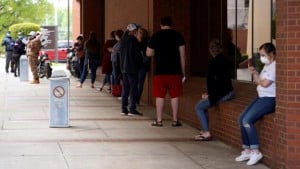 ATLANTA, GA – Georgia Labor Commissioner Mark Butler said Thursday that Albany recorded an unemployment rate of 4.2 percent in August, up three-tenths of a percent over the month. A year ago, the rate was 5.2 percent.
"As we look toward the fall, we are committed to supporting the workforce as employers search for seasonal, full-time, and part-time employees to fill vacancies in preparation for the holiday employment season," said Commissioner Butler.
The labor force decreased in Albany by 228 and ended the month with 65,422. That number went up by 100 when compared to August of 2021.
Albany finished the month with 62,659 employed residents. That number decreased by 423 over the month and rose by 757 when compared to the same time a year ago.
Albany ended August with 62,900 jobs. That number went up 600 from July to August and went up 2,100 when compared to this time last year.
The number of unemployment claims increased by 23 percent in Albany in August. When compared to last August, claims were down by about 27 percent.
Employ Georgia, the GDOL's online job listing service at employgeorgia.com showed about 405 active job postings in Albany for August.