GDOT's South Georgia construction contracts
Lights, resurfacing and bridge replacement total more than $32 million in expenditures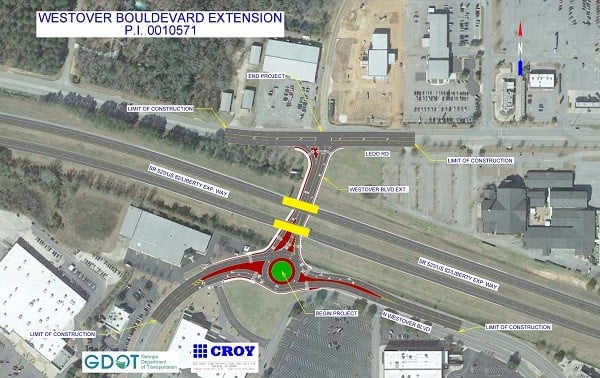 TIFTON, GA – Recently awarded $32.5 million Georgia Department of Transportation construction contracts include extending Westover Boulevard in Dougherty County to connect with Ledo Road in Lee County and replacing a Terrell County bridge in such poor condition that it was closed in the fall of 2019.
Other contracts will upgrade lighting and resurface portions of state routes and upgrade signs and pavement markings on county roads.
The largest contract that Georgia DOT awarded July 1 was approximately $21 million for the Westover Boulevard project. Construction will provide motorists another way to reach Ledo Road, which should relieve congestion on Nottingham Way. Construction includes Albany's first roundabout near the commercial area of Albany Mall and two new bridges on US 82/state Route (SR) 520/Liberty Expressway. The project is expected to be finished in the winter of 2024.
A $1.3 million contract will replace the Ivy Mill Road bridge over the Bear Creek Tributary in Terrell County. The bridge was built in 1950 and replacement has been eagerly awaited by motorists who have had to find alternate routes since Georgia DOT bridge inspectors recommended closure about three years ago. Construction is expected to be complete in the summer of 2023. Replacement is being done through the Department's Low Impact Bridge Program. The program pays for replacement of county road bridges, reducing the number that have posted weight limits or have been closed. Construction time is shortened by using some prefabricated components.
Resurfacing contracts awarded are for SR 37 in Baker County from the Calhoun County line to east of the Flint River bridge; SR 31 in Lowndes County from west of Carrol Road to west of SR 7 Business; and SR 90 in Turner County from north of SR 159 to north of the Wilcox County line. All have completion dates of spring 2023.
Remaining contracts will upgrade lighting on Liberty Expressway at the Jefferson Street interchange in Dougherty County and upgrade road signs and pavement markings on portions of 23 county roads in Seminole County. The locations are River Road, Ash Crossing Road, Three Notch Road, Oakview Church Post Road, Burl Lane Road, Swanner Road, County Road 374, Hebrew Road, Brackin Road, John Thursby Road, Tom & Brandy Trawick Road, CD Miller Road, Spooner Road, Hagen Still Road, Mae Dell Cannon Road, Robin Drive, Terry's Road, Woodrow Jernigan Road, Dallas Moore Road, Joel Pool Road, Burke Road, Cannington Road and Lane Bridge Road. Georgia DOT receives annual funding from the Federal Highway Administration for safety improvements on roads that are not on the state highway system. About 40% of overall crashes statewide are on off-system routes. Both projects are scheduled to be complete in the summer of 2023.
Start dates have not been established for any of the contracts and scheduled completion dates are subject to change.