GBI promotes Eastman native Nicole Childress
Criminal intelligence analyst bumped to supervisory role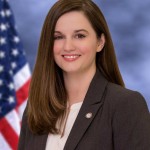 DECATUR, GA-  The Georgia Bureau of Investigation announces the promotion of Nicole Childress to Supervisory Criminal Intelligence Analyst of the GBI's Georgia Information Sharing and Analysis Center (GISAC) Watchdesk. Ms. Childress will be responsible for supervision of the staff assigned to the Watchdesk which serves as a single point of access for the collection, analysis, and dissemination of tips and leads concerning emerging, imminent or existing threats, and other criminal activity affecting the state of Georgia. The Watchdesk operates 24/7 and is staffed by Criminal Intelligence Analysts who process requests and tips provided to the GBI. The Watchdesk processes more than 12,000 requests for analytical assistance, criminal intelligence information, and investigative support from law enforcement agencies throughout Georgia and the United States each year.
Ms. Childress began her career with the GBI in 2012 as the Office Manager of the regional investigative office in Eastman. She became a Criminal Intelligence Analyst in 2013, assigned to support the Eastman and Perry field offices. She is also a Georgia P.O.S.T. certified instructor.
Ms. Childress graduated from the University of Georgia in 2007 with a Bachelor of Science degree in Psychology. She also earned a Master of Arts in Forensic Psychology from Marymount University in 2010.  
The Georgia Bureau of Investigation is comprised of four divisions: the Georgia Crime Information Center, the Crime Laboratory, the Investigative Division, and the Legal Division. The GBI has ~840 employees and a current budget of $119,761,272. Ms. Childress is assigned to the Investigative Division.
Ms. Childress is from Eastman, GA and currently resides in Dacula, GA.