GBI arrests Worth's former chief deputy
Domestic incident spurs investigation and charges for 60 year old Raymond Drennon, who is no longer employed at the department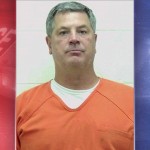 SYLVESTER, GA – The former Chief Deputy for the Worth County Sheriff's Office has a new view of the jail's conditions after his arrest Monday by the GBI.
Agents say 60 year old Raymond Roy Drennon was taken into custody on three separate charges.
Drennon faces one count of Violation of Oath by a Public Officer, one count of Terroristic Threats and Acts and one count of Cruelty to Children 3rd degree.
Drennon has since been released from the Worth County Jail after posting a bond amount of $3,000.
According to agents, the charges stem from a domestic incident that reportedly occurred at the Drennon residence.
The GBI says Worth County Sheriff Don Whitaker requested the agency's investigation.
Sheriff Whitaker tells South Georgia Television News he did so for the sake of departmental transparency.
Sheriff Whitaker also added that Drennon is no longer employed with the department.
GBI agents say their criminal investigation is active and ongoing and invite anyone with information in this case to contact them at their regional office in Sylvester at 229-777-2080.