From death to life; Dougherty County Coroner partners with LifeLink of Georgia
Educating the public on organ and tissue donation and how it effects the African American Community
ALBANY, GA– As the Dougherty County Coroner, Michael Fowler's job is to pronounce death. However, he has made it his mission to educate others on how to take that death and create life through organ and tissue donation.
Therefore, on Tuesday Fowler hosted a luncheon, introducing his new partnership with LifeLink of Georgia.
"The reason I want to partner with life link is because I have seen too many people die waiting soon a list that hasn't gotten the organ they needed… many people died not having the opportunity of knowing what organ donation consists of." Fowler explained.
Life Link of Georgia is the procurement organization that recovers all organs and tissue for transplantation in the peach state. From organ procurement, LifeLink contacts the United Network for Organ Sharing (UNOS) who then decides which recipient each donor organ will go to.
Statistics show about 17 people die daily waiting for an organ transplant. According to LifeLinks website, 120,000 people are currently on the U.S. transplant list. Over, 5,400 of that are Georgians alone.
Bobby Howard, former NFL running back and kidney recipient was the keynote speaker at the luncheon.
Howard received a kidney transplant when he was just 28 years old. He says himself, if it wasn't for organ donation, he would not be here today.
16 year old Jabari Brancley is a donor recipient and says they same thing.
"I was diagnosed with dilated cardiomyopathy and on February 14th I was admitted waiting for a heart transplant. On April 24th we got the call saying they had a heart for me and the next day I went into surgery.. We all need to come together to save one another, there's so many people waiting and waiting and dying and dying, so we need to come together so we can all live in peace" says Brancley.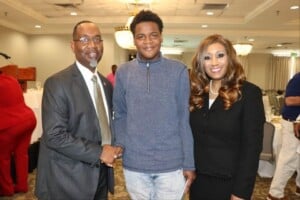 94% of the thousands of African Americans on the transplant list are waiting on a kidney, just as Bobby Howard once was. Statistics show that there are less Black registered donors than any other race.
Cassie Borderieux, the coroner, funeral home and medical examiner liaison for LifeLink, says although statistics show that there are fewer black registered organ donors, they are the race with the largest need.
"The specific thing about kidneys is that they generally do better in an African American body if both donor and recipient are African American.. They have a better chance of success and a less chance of rejection. So thats why it's important for African Americans to sign up to be donors because majority of our transplant list in Georgia is African Americans waiting on kidneys" Borderieux explains.
Bobby Howard says "when you look at kidney and heart disease, its effected the African American community at an astronomical rate. So we need to change that and start educating people. With so many people suffering and being on dialysis, black people have to get involved. When you put money into the bank you can get some out… when you put organs into the system you can take them out, but we aren't putting any into the system, so we can't take any out."
Howard says most African Americans are reluctant to donate organs because of myths and stereotypes surrounding it. Such as, religion, organs going to the black market instead of recipient patients etc. But Howard says they main one being the distrust between the African American community and the healthcare system.
Howard had made it his mission to educate but also develop relationships through Lifelink.
"We have a bond with the community that were going to intrust you to that your family understands about organ donation but we also want you to trust us that we have your best interest at heart. Organ donation is alive and well. We want you to participate in this system we want you to live a healthy lifestyle because we all have a gift that we can give back and that gift is called life." Howard says.