EMA agencies working on thunderstorm aftermath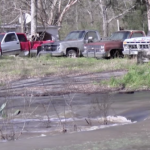 (ADEL, GA)- After Thursday's thunderstorms which tore through Southwest Georgia, plenty of counties spent Friday, picking up the pieces.
Crews have been hard at work throughout the night, restoring power, clearing debris, and dealing with flooding.
Sheriff Billy Hancock tells us, "The creeks are rising, the streams are rising. So as it's been going down in one area, we see it rise in another area. When this goes down behind us here on Drayton Road, it means on the West side of the county, we're gonna see it rise there."
While no deaths have been reported in Georgia, there's been plenty of damage on the roads, and to people's homes.
"It was verified that it was a large pine tree that went through the roof of the home. The tree had broken off about halfway up, and went through the home. The occupant was sitting in the living room at the time, the tree had fell and hit him in the head," says Cook County EMA Director, Johnny West.
With the severe weather out of the area, the focus now turns towards finishing the cleanup.
In the case of Crisp County, they're trying to get help for those who've been severely impacted by the flooding.
"It is just a hard thing to see people lose their homes and everything they work for time and time again. As Emergency Management Director, We've got to find ways to mitigate this problem," says Sheriff Hancock.
Sheriff Hancock says that a good amount of the flooding in crisp county was caused by beaver dams.