Covid-19 units close at Phoebe North
We have reached a point where it is more efficient to care for COVID patients on our main campus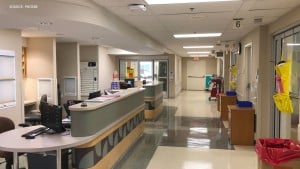 ALBANY, GA – As of Friday morning, these were Phoebe's COVID-19 numbers:
Total COVID-19 Patients in Phoebe Putney Memorial Hospital – 20
Total COVID-19 Patients in Phoebe Sumter Medical Center – 4
Total COVID-19 Patients in Phoebe Worth Medical Center – 1
Total Inpatients Recovered – 4,230
Total Positive Deaths from Phoebe Putney Memorial Hospital – 455
Total Positive Deaths from Phoebe Sumter – 123
Total Positive Deaths from Phoebe Worth – 1
Total Vaccines Administered – 79,122
Phoebe's number of COVID-19 patients today represents a decrease of 87% since the omicron surge peak in late January and a 30% decrease in the last week.
"With decreasing numbers, we reached a milestone in our COVID fight this week when we were able to close our last remaining COVID-19 units at Phoebe North.  Our team did an amazing job quickly standing up multiple acute care and intensive care units at that hospital campus when COVID cases exploded in our region, and we appreciate the assistance we received from the state in that effort," said Scott Steiner, Phoebe Putney Health System President & CEO.  "Phoebe North served as our primary COVID inpatient treatment facility for most of the pandemic, but we have reached a point where it is more efficient to care for COVID patients in renovated COVID care areas on our main campus," Steiner added.
Yesterday, the Centers for Disease Control and Prevention (CDC) updated its COVID-19 community levels, and southwest Georgia counties are no longer listed as high.  Sumter is in the low level, while Dougherty, Lee, Worth and most other area counties are in the medium category.  Based on those levels, the CDC no longer recommends universal indoor masking in our region.
"The CDC still recommends everyone stay up to date with COVID-19 vaccines and boosters and isolate if they have COVID symptoms, but based on our current level of virus transmission, it is not necessary to wear masks in public settings," said Dianna Grant, MD, Phoebe Putney Health System Chief Medical Officer.  "We still must require masks in all Phoebe facilities, and we encourage anyone who is immunocompromised or desires an extra layer of protection, to continue to mask up, as long as that makes them feel more comfortable," Dr. Grant added.