Cordele swears in new Chief of Police
Frm. Patrol Commander Jalon Heard, who resigned in unison with former Chief, now tabbed as permanent replacement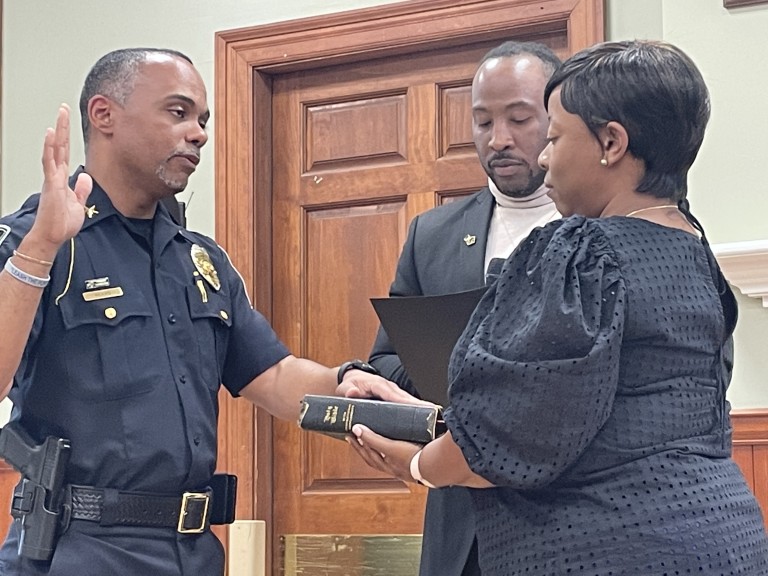 CORDELE, GA – Take the "interim" title off new Cordele Police Chief Jalon Heard, who was formally sworn in Wednesday night at the Community Clubhouse.
The 41 year old former Patrol Commander for the Cordele Police Department was hired only months ago by former Chief Mike Hathaway, and Heard hopes to have a longer tenure with the department than his predecessor.
Both Hathaway and Heard simultaneously resigned back in February, citing growing conflicts with the city's newly elected commission.
But Heard was held required to a two week notice, and was immediately promoted to the interim Chief post.
Later, Heard said he would stay on until a permanent Chief was named, and admitted he was a candidate. But downplayed his chances in securing the Chief's position, saying he would need a strict "no meddling" policy with city commissioners as it relates to the police department.
Shortly before Wednesday's swearing in, Heard would not confirm whether he got that assurance from the city's commissioners, saying he wants to look forward and not to the past.
Chief Heard says the one thing citizens may see differently is a greater embrace to community policing efforts.
Prior to his law enforcement career, Heard honorably served in the U.S. Army for 8 years, and began police work in 2008 with the Perry Police Department.
Since the Perry P.D. days, Heard has worked for the Georgia Department of Corrections, the GBI and the GDC Public Information Office.