Community leaders give joint update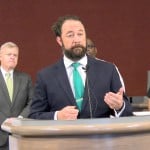 (ALBANY, GA) — With the Georgia Department of Public Health announcing that there are more than a thousand confirmed cases of coronavirus in the state, local leaders are working in an attempt to keep those numbers down.
Albany Mayor, Bo Dorough says, "State resources are coming in the way of hopefully additional nursing staff and beds at Phoebe North. We know that Phoebe Putney is approaching capacity. This is an encouraging development."
Both counties have enacted executive orders in the last week, banning any large gatherings, including church sermons.
Lee County Commission Chairman, Billy Mathis says the county has been asking churches to hold off on large gatherings until the pandemic ends.
"one of our biggest problems at this point has been to get some of the churches to co-operate with not having large services or large congregations," says Mathis.
Chairman Mathis goes on to say that while it may seem like the odd thing to do in streaming a church sermon from home, it helps with practicing social distancing.
He says, "Do the best you can to stay at home, not to go to church for a little while and only go out when you need to. If we all do those things and do our part, we can hopefully get this under control as soon as possible."
The Department of Public Health says there are 1,097 confirmed cases as of Tuesday evening.
Comments
comments