Communities prepare for upcoming census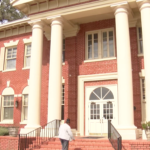 (CAMILLA, GA)- With the census starting in March, communities like Camilla and Sylvester are putting in the details to make sure everyone in their county is counted.
Because every person counted is money towards that community.
"You want the very best for your citizens in terms of infrastructure and education. So part of our strategic planning process is to make sure that we're putting mechanisms in place, so we can do that," says Camilla Mayor, Kelvin Owens
According to Leigh Wiley, the co-chairman of the Complete Count Committee in Worth County, each person counted in the census means around $2,300 towards the community.
But more than money, the lower the population that's counted in the census, the less representation South Georgia has in Atlanta.
Leigh tells us, "It impacts us in the legislature. You know, in the 2010 Census, South Georgia lost five house seats in the Georgia Legislature. So it impacts our representation in the Georgia government."
Mayor Owens tells us that despite a minor dip in population, they're making sure that no resident goes uncounted.
He says, "One of the things that we are doing is that starting, even this week is we're starting our second session of our strategic planning. And part of that process is figuring out how we can be competitive to keep our best and brightest."
The Census will run through the end of April.