Bishop backs Biden's call for voting rights advancement
Last year, Congressman Bishop helped pass H.R. 4, the John Lewis Voting Rights Advancement Act in the United States House of Representatives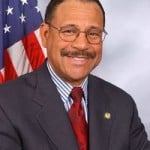 ATLANTA, GA – Today, Congressman Sanford D. Bishop, Jr. (GA-02) joined President Joe Biden, Vice President Kamala Harris, and Democratic members of the Georgia Congressional Delegation in Atlanta to urge swift action on voting rights legislation currently pending before the United States Senate. Both the John Lewis Voting Rights Advancement Act and the Freedom to Vote Act are awaiting a vote by the United States Senate. Both bills include provisions that have previously enjoyed bipartisan support to protect the right to vote and the election process.
"The faith in and integrity of our elections are strengthened when we empower more of our citizens to vote. Today, we are seeing new laws proposed and implemented that seek to suppress votes and subvert elections. Already 19 states have enacted 34 laws to this nefarious end. Hundreds of bills like them have been and continue to be introduced in states across the country," said Congressman Bishop. "Those bills are being passed by simple majorities in state legislatures and undermine our democracy. Therefore, the U.S. Senate must respond in kind and act, no longer shackled by the filibuster, to protect our democracy and pass the John Lewis Voting Rights Advancement Act as well as the Freedom to Vote Act. We must remember the lessons of the Civil Rights Movement. Inaction is complacency and complicity in the face of a wrong. Passing these bills is an act of conscience and courage to make things right."
In October, Senate Republicans blocked the Freedom to Vote Act, a new and comprehensive package of voting, redistricting and campaign finance reforms, from even being debated. This legislation would expand opportunities to vote, combat voter suppression, fight extreme partisan gerrymandering, reform campaign finance for the people and promote election security.
Last year, Congressman Bishop helped pass H.R. 4, the John Lewis Voting Rights Advancement Act in the United States House of Representatives. The legislation establishes new criteria for determining which states and political subdivisions must obtain preclearance before changes to voting practices may take effect. Preclearance is the process of receiving preapproval from the Department of Justice (DOJ) or the U.S. District Court for the District of Columbia before making legal changes that would affect voting rights. The bill awaits a vote by the U.S. Senate.
Pre-clearance was a fundamental component of the Voting Rights Act of 1965. Since the U.S. Supreme Court rolled back preclearance requirements in 2013, there has been a surge of new state laws — especially in states previously subject to preclearance, including Georgia — which may disproportionately make it more difficult for communities of color, senior citizens, students, and working individuals to exercise their right to vote.