APD's all terrain vehicle warning
Police Chief Persley says it's only a matter of time before serious injury or death befalls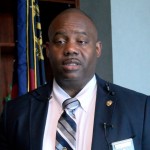 ALBANY, GA- The Albany Police Department isn't a fan of people driving their off-road vehicles on city streets.
Thursday during the city's public safety meeting, Albany Police Chief Michael Persley addressed the topic, as the number of complaints of careless ATV drivers grow from both concerned residents and motorists alike.
Simply put, the Albany Police Department says all-terrain vehicles like four wheelers and dirt bikes are not designed to be driven on city streets.
"It's dangerous," said Chief Michael Persley. It's only a matter of time before this type of irresponsible behavior leads to someone getting seriously injured, the death of the rider, an innocent pedestrian or motorist."
APD says it will continue to address the matter by educating the public and enforcing all laws about off-road vehicles operating on city streets. Still, they need the public's help in combating the problem.
Residents who see off-road vehicles driving on public roads are asked to call Albany's Public Safety Communications at 229-431-2132 or submit information via the Albany Police Department Facebook page.