APD sergeant arrested on trio of sexual battery counts
Sgt. Charlie Roberts also accused of violating oath of office per D.A. Greg Edwards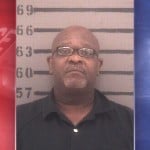 ALBANY, GA – Veteran Albany police officer Charlie Roberts is facing sex related charges and is on temporary leave from his position after his Thursday arrest.
According to Dougherty District Attorney Greg Edwards, who has already recused his office from prosecuting Roberts, says the Albany Police Sergeant was arrested on three counts of sexual battery and a single charge of violating his oath of office.
Friday morning, Albany Police Public Information Officer Imani Bennett-Zackery replied to South Georgia Television News' request for comment on Roberts arrest with the following:
The Albany Police Department is aware of the investigation led by the GBI and the Dougherty County District Attorney and the nature of the charges being filed against one of our police officers.
GBI officer has been placed on administrative leave pending the outcome of the investigation.
At the Albany Police Department, we stand by the mission statement to provide quality law enforcement services to all public members in a fair and equitable manner to preserve and value human life, safeguard constitutional rights, and maintain order in the community. To accomplish this mission, every man and woman assigned to the Albany Police Department is responsible for gaining the community's trust.
Our actions on and off duty must reflect the mission and core values.
Additional information regarding the ongoing investigation will come from the Dougherty County District Attorney's Office and the Georgia Bureau of Investigations.