AMA BOOK CLUB TO EXPLORE LIFE OF SCULPTOR AUGUSTA SAVAGE
The Art Lovers Book Club Meets at 6 pm on Jan 19 at the Albany Museum of Art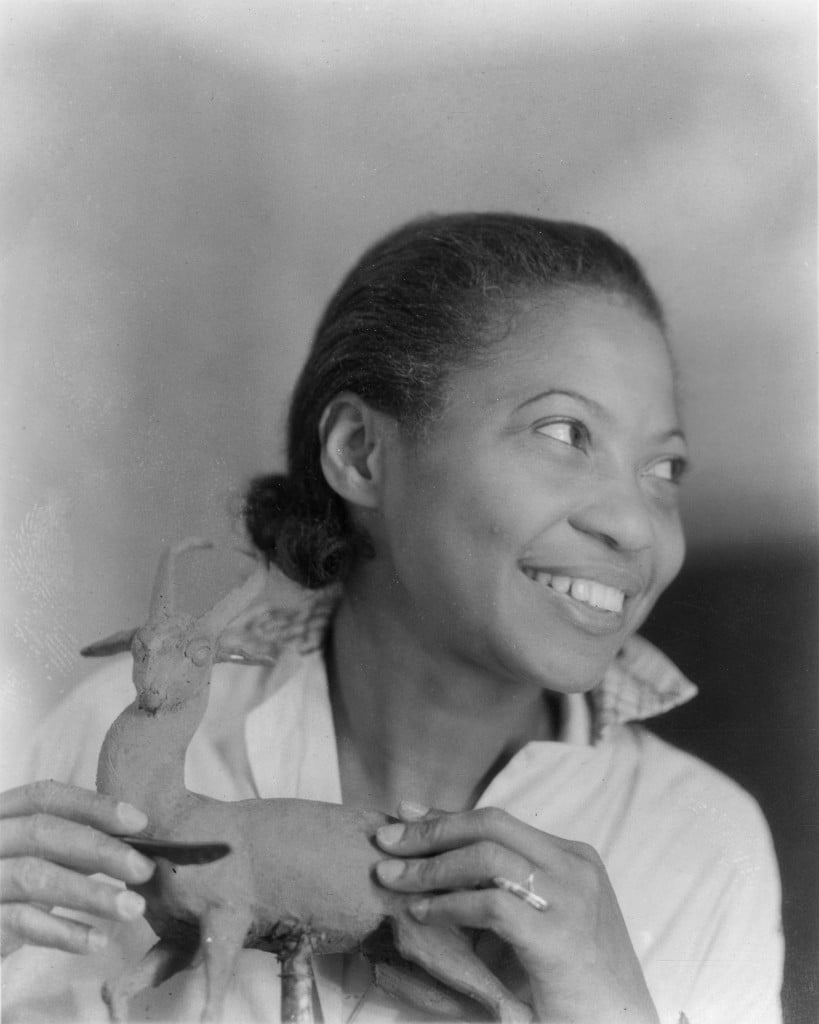 ALBANY, Ga.  ─ Graven Images: The Tumultuous Life and Times of Augusta Savage, Harlem Renaissance Sculptor will be the topic of discussion for the AMA Art Lovers Book Club at its first meeting of the new year.
The club meeting begins at 6 pm on Tuesday, Jan 19, 2021, at the Albany Museum of Art, 311 Meadowlark Drive. There is no cost to attend and you do not have to be an AMA member to join in the lively discussion.
"Graven Images is a beautifully written biography that reads like a novel," AMA Director of Education and Programming Annie Vanoteghem said. "It perfectly captures the amazing life of Augusta Savage, an artist, educator, mentor, activist and community leader, and reflects her triumphs and tragedies as well as the complex emotions of her life."
The biography looks at the life of Savage (1892-1962), an American sculptor and teacher who was associated with the Harlem Renaissance. A tireless worker for equal rights in the arts for African Americans, her studio influenced a generation of nationally famous artists.
With the help of grants and support from the African-American community, she was able to study with sculptor Charles Despiau at Académie de la Grande Chaumière. Returning to the States in 1931, Savage, a native of Green Cove Spring, Fla., who worked mostly in clay and plaster, endured the economic setbacks of the Great Depression, which nearly halted art sales.
She opened her Savage Studio of Arts and Crafts in a basement in Harlem to anyone who wanted to paint, sculpt or draw, attracting artists who would become nationally known. Her sculpture Lift Every Voice and Sing, a professional commission for the 1939 World's Fair in New York, was the most popular work at the fair, though it was destroyed after the event because of a lack of funds to move it or cast it in bronze. 1939 also was the year of her last major show.
During the World War II era, Savage, frustrated with her financial struggles, moved to a farmhouse in Saugerties, N.Y., where she wrote children's stories and taught children's art classes. The locations of much of her work are unknown, but her most famous piece, a bust titled Gamin, is on permanent display in the Smithsonian American Art Museum.
Because of concerns for the health of our guests and staff, the AMA is following guidance from local, state and federal health officials in regard to activities conducted at the museum. Space is limited to a maximum of 10 participants at the book club meeting. Guests entering the AMA are asked to wear masks to protect others and to allow at least six feet of space between them and anyone who is not in their party.
Email Vanoteghem at annie.vanoteghem@albanymuseum.com to reserve a spot so that you can share your thoughts while enjoying the company of fellow book lovers in a safe environment. You may also contact Vanoteghem by calling her at 229.439.8400.
This is the penultimate club meeting of the club in Series 2, which concludes on March 16, 2021, with a discussion of Loving Frank. In that novel, Nancy Horan gives a fictionalized account of Mamah Borthwick's love affair with architect and designer Frank Lloyd Wright that is told from Borthwick's perspective.
Club members at the March meeting also will share thoughts on books that will be discussed in the third series, which is set to start May 18, 2021.
The AMA Art Lovers Book Club meets on the third Tuesday of May, July, September, November, January and March. You can attend as many or as few meetings as you want. There is no cost to attend, and you do not have to be an AMA member to participate.
You can get the latest information about the club at www.albanymuseum.com/book-club.
CURRENT AMA EXHIBITIONS
On the Wall: murals by David Hale, Shanequa Gay, Amanda Jane Burk and Chris Johnson, and paintings by Sarah Emerson, is in the Haley Gallery through Feb 20, 2021.
Midlands, works by Courtney McClellan, is in the East Gallery through Feb 20, 2021.
Escape Plan, works by Elinor Saragoussi, is in the West Gallery through Feb 20, 2021.
Georgia Artists Guild of Albany 27th Annual Exhibition is in the McCormack Gallery.
ABOUT THE ALBANY MUSEUM OF ART
The Albany Museum of Art is located at 311 Meadowlark Drive in Albany, Ga., adjacent to Albany State University West Campus just off Gillionville Road. The museum is accredited by the American Alliance of Museums. The Albany Museum of Art is open to the public 10 am-5 pm Tuesdays, Wednesdays and Fridays, and 10 am-7 pm Thursdays. Admission is free.
For more information about the AMA please visit our website, www.albanymuseum.com or call 229.439.8400. Be sure to follow the @AlbanyArtMuseum on Twitter, AlbanyMuseum on Instagram and AlbanyMuseumOfArt on Facebook.
CAPTION
Graven Images, a biography of influential American sculptor Augusta Savage, will be the topic of discussion at the Jan 19, 2021 meeting of the AMA Art Lovers Book Club at the Albany Museum of Art. (Special photo)