Albany flavors "DC Fly In"
Albany Area Chamber leads local delegation to Washington, D.C. in federal advocacy event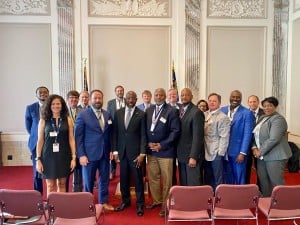 ALBANY, GA – The Albany Area Chamber of Commerce last week led a delegation of local leaders to Washington, D.C., for the annual "DC Fly In," the organization's long-standing annual federal advocacy event. The delegation, representing the public and private sectors, met with national leaders and lawmakers on issues most vital to Albany and Southwest Georgia.
The two-day event included meetings with the Albany Area Congressional delegation — U.S. Rep. Sanford Bishop; the office of U.S. Rep. Austin Scott; U.S. Sen. Jon Ossoff; and U.S. Sen. Raphael Warnock — and the Pentagon-based leadership of Marine Corps Logistics Base Albany (MCLB Albany) and Marine Corps Logistics Command (Logcom), including Meredith Berger, assistant secretary of the Navy for energy, installations and environment, and Lt. Gen. Edward Banta, deputy commandant of Marine Corps Installations & Logistics. Col. Michael Fitzgerald, commanding officer of MCLB Albany, and Maj. Gen. Keith Reventlow, commanding general of Logcom, participated in the Pentagon discussions.
Meetings allowed the Albany group to provide updates on a variety of fronts including economic development and Albany as a premier industry location; health care delivery and expansion of services to meet regional needs; work force development initiatives aimed at expanding the classroom-to-career pipeline in high-demand fields; infrastructure investment as a component of community and economic development, with a priority focus on broadband expansion; and MCLB Albany as a global leader in innovation and mission readiness.
"Albany-Dougherty County has, through vision and action, positioned itself as a statewide leader in collaborative partnerships, and the distinction is well recognized among state and federal leadership," said Barbara Rivera Holmes, president and CEO of the Albany Area Chamber. "The DC Fly In is our community's opportunity to secure face time in our nation's capital and two-way communication with national leaders who can bolster and advance our local initiatives through federal policy and funding."