Accused Tift deputy shooter out of hospital; in jail
Robbins, North Carolina's Justin Freeman is moved to the Tift County Jail Monday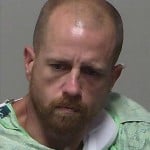 TIFTON, GA – Tift County Sheriff's officials have revealed the charges leveled against the alleged gunman charged with wounding a Tift County deputy early Friday.
Tift County Sheriff's Public Information Officer David Haire says felony charges against 40 year old Justin Freeman are aggravated assault upon an officer, criminal attempt to commit a felony, two counts of use of a firearm by a convicted felon, possessing stolen property as well as possession of methamphetamine.
Freeman and 21 year old Waymon Glenn Parnell were stopped Friday morning by Tift deputies who were responding to a 911 call regarding two suspicious men who were seen knocking on doors of residences along Tifton-Eldorado Highway.
According to the GBI, which is handling the ongoing investigation, Freeman fired upon officers as they approached and reportedly struck one deputy twice with gunfire.
Another officer fired upon Freeman, striking him before Freeman and Parnell were taken into custody.
The injured officer, identified in social media posts as Robert Owens, is reportedly out of the hospital and recuperating at home, with gunshot wounds to his hip and wrist.
Tift County Sheriff's officials have declined our requests for comment on the shooting and subsequent recovery of the injured deputy, stating they won't because the case is being actively investigated by the GBI.