West Fraser responds to Cordele plant fire
Company spokesperson says no one hurt, mill blaze is under investigation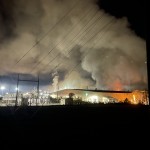 CORDELE, GA – Wednesday morning, officials with West Fraser (formerly Norbord) were assessing the damages and responding to a South Georgia Television News inquiry regarding the fire which broke out last night at the company's production plant in Cordele.
A West Fraser spokesperson says employees observed a fire in the press area on the second line at the Cordele OSB mill and that emergency procedures were immediately activated.
Heather Colpitts, the director of Corporate Affairs for West Fraser says all employees are safe and the mill is not at risk, as the fire's cause is under investigation.
Firefighters from neighboring jurisdictions were called and were on site late last night, extinguishing the flames.
Colpitts says both public and employee safety are West Fraser's top priorities, citing an excellent safety record that shows the company's commitment to prevention and safe work practices.
West Fraser wants to thank the responding firefighters and everyone who provided assistance.