Volunteers wanted for Day of Caring
United Way's largest day of community service and will take place on Friday, March 25th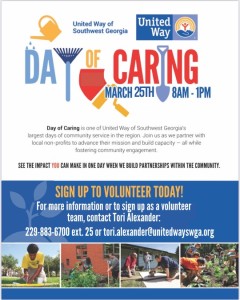 ALBANY, GA -Registration for volunteers is now open for the United Way of Southwest Georgia's 2022 Day of Caring.
Day of Caring is one of United Way's largest days of community service and will take place on Friday, March 25, 2022.
It offers amazing opportunities for individuals or groups of volunteers to connect in our community. It provides a way to give back to the community in tangible, highly appreciated ways and promotes awareness of resources available to residents in Albany/Dougherty County.
A volunteer kick-off event will be held at the United Way of Southwest Georgia office located at 112 N. Westover Boulevard Albany, GA 31707 at 8:00 am where volunteers will meet and get additional information about their project assignments scheduled from 9:00 am – 1:00 noon.
For more information or to sign up, please contact Tori Alexander at 229-883-6700, ext. 25 or tori.alexander@unitedwayswga.org.
Individuals that don't have a team but want to volunteer can still register, and United Way will work to build a team for them. We also ask for volunteers for media coverage the day of the event.
To guarantee a Day of Caring t-shirt, registration should be completed by Wednesday, March 23rd.