Vienna mom charged with murder
27 Keara Cotton's 4 year old son Jayceon reported missing prior to her arrest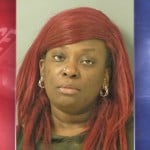 CORDELE, GA – A Dooly County mother is facing murder and additional charges a day after authorities issue a public appeal for help in locating the accused's missing child.
Monday, The GBI issued an alert regarding the whereabouts of 4 year old Jayceon Mathis, who relatives say they hadn't seen in weeks.
GBI agents said they also had difficulty in finding Jayceon's mother, identified as 27 year old Keara Cotton of Vienna.
Tuesday afternoon, the GBI alerted that they have now arrested and charged Keara Cotton with murder, concealing the death of another, and cruelty to children 2nd Degree.
Additionally, investigators obtained information that led to the discovery of human remains in Cordele near E. Sixteenth Avenue.
Agents will send the remains to the GBI Medical Examiner's Office for identification.
This investigation is active and ongoing.  Anyone with information is encouraged to contact the GBI.