Victim identified in Sunday's fatal train collision
Authorities say 52 year old Dwayne Daniels died at the scene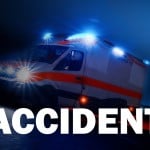 CORDELE, GA – The Cordele Police Department is identifying the man who was struck and killed by a train Sunday afternoon.
Tuesday morning, police revealed 52 year old Dwayne Daniels was killed in the accident.
Police believe Daniels was walking along the tracks near the downtown railroad property around 3:45pm when he was struck by the train.
The victim died at the scene near the railway's crossing at 9th Street.
Cordele Police say the incident is being investigated by railroad officials.