Tift County's Cali Conner becomes first female Blue Devil to sign with a collegiate volleyball program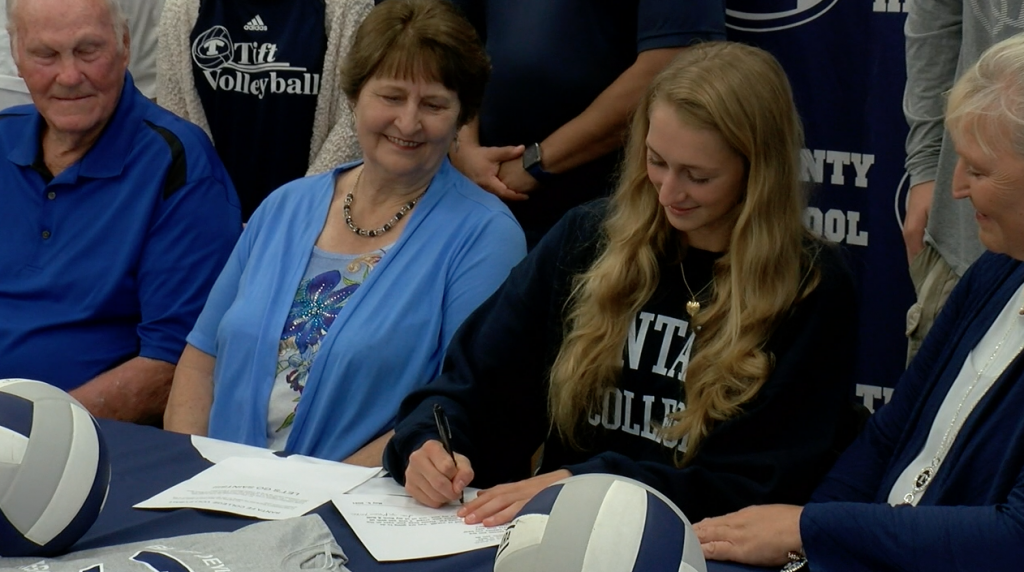 Hello and welcome to South Georgia TV sports. Earlier today, Cali Conner made history at Tift County High School. Conner signed her national letter of intent to play volleyball at Santa Fe College in Gainesville, Florida – becoming the first-ever Tift County female volleyball athlete to sign with a collegiate program.
During her time as a Blue Devil, Conner was the only three-sport female athlete. In volleyball she won region player of the year, in basketball she was named first-team all region, and she's currently competing in sectionals in the high jump and pole vault. She loves all her sports, but there's just something special about volleyball.
"I just thought about it and I started playing travel volleyball, and I was like, 'wow this sport is amazing, I love it so much, I could play it all day long.' I felt the same way about basketball, but volleyball was just a different type of feeling in certain ways. I just like growing and bettering myself in this sport. I just love it, I'm excited."
According to her Tift County head volleyball coach, Caleb Dawson, Conner is a great leader on the court, and the kind of player coaches dream of.
"We look for great grades, we look for character, and we hope those two things are the primary source of their athletic ability. Followed by their ability to actually play. And she is that all-around player. She is an amazing young lady, but she will absolutely, make your team 100% better.
While Conner had some options, Santa Fe College stole her heart. It might have something to do with her family being Gator fans. But beyond that, she views it as a great fit for herself.
"One, it's in Gainesville. Obviously I love that town. Two, my dream is the University of Florida, it's right beside the University of Florida. There are just lots of connections there. I feel like it would be the best opportunity for me to go there and create other opportunities for myself in the future."
In Tifton, for South Georgia TV, I'm Nate Smith, reporting.