Team Trump tour bus stumps South Georgia
Sylvester's Fat Boys BBQ is Wednesday's Worth County stop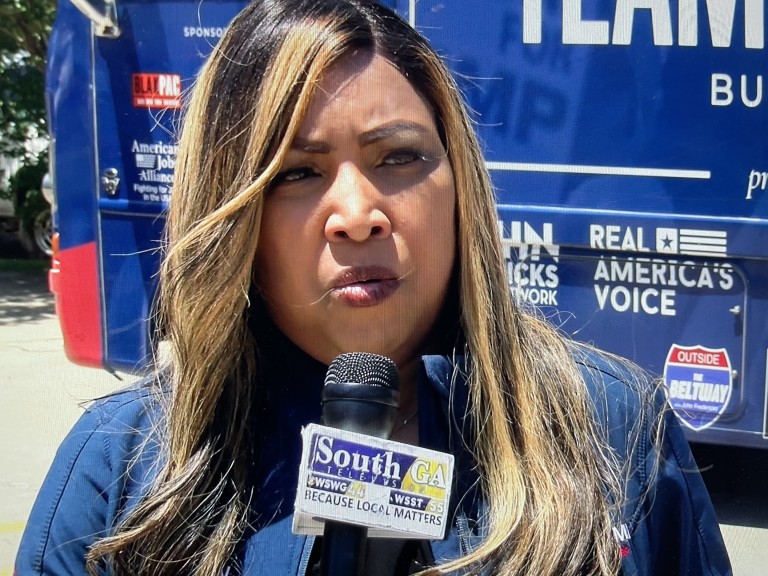 SYLVESTER, GA – As early voters cast their ballots across South Georgia, supporters of former President Donald Trump are trying to get his endorsed candidates across the proverbial finish line.
Wednesday afternoon in Sylvester, the Team Trump Bus Tour swung into Fat Boy's Barbeque on Main Street.
We caught up with Trump campaign senior adviser Lynne Patton, as she stumped for the former President's host of endorsed candidates here in Georgia, among Fat Boy's diners.
While many Trump endorsed hopefuls, such as Ohio's J.D. Vance have enjoyed success riding the political coat tails of the former President, Georgia's former U.S. Senator David Perdue seems to be lagging behind some of his counterparts in polling.
South Georgia Television News asked Patton about Perdue's primary challenge to incumbent Governor Brian Kemp.
"Well, the best thing I can say to everyone out there is that in Georgia, there is an endangered species, and that's the RINO. And if you don't get out and vote for David Perdue, then Kemp is going to drag down Herschel Walker and the other victorious primary candidates that Trump has selected in the general ballot," said Patton.
The Team Trump Bus Tour rolls toward Moultrie and Thomasville Thursday in advance of the primary election date of May 24th.