Reward doubled for Tyler Henderson's capture
Manhunt for alleged deputy shooting suspect enters third day with higher reward offer to tipsters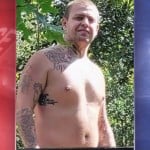 MEIGS, GA- As the manhunt enters the third day for alleged deputy shooter Tyler Keith Henderson, the Thomas County Sheriff's Office has doubled the reward offered for his capture and arrest.
A $10,000 reward is now being offered for information leading to Henderson's arrest.
The 25 year old is wanted for attempting to murder 3 Thomas County deputies.
Two deputies were shot and wounded early Tuesday morning as deputies tried serving an arrest warrant upon Henderson at an Ochlocknee residence.
Officers say Henderson resisted, struggled with the deputies and was able to get one of the officers' service revolver and fired, wounding both deputies before he fled the scene.
Henderson is considered armed and dangerous.
The focus of the search continues to be the Ochlocknee and Meigs communities.
Thomas County officials suggest if you see Tyler Keith Henderson, officials caution to not approach him but rather contact the Operations Center at 229-201-1222 or the GBI TIP Line at 1-800-597-8477.