Phoebe's Covid-19 case loads jump
New visitor restrictions to be implemented at all its hospitals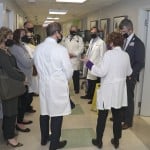 ALBANY, GA – As of Tuesday morning, these were Phoebe's COVID-19 numbers:
Total COVID-19 Patients in Phoebe Putney Memorial Hospital – 95
Total COVID-19 Patients in Phoebe Sumter Medical Center – 23
Total COVID-19 Patients in Phoebe Worth Medical Center – 4
Total Inpatients Recovered – 3,513
Total Positive Deaths from Phoebe Putney Memorial Hospital – 400
Total Positive Deaths from Phoebe Sumter – 108
Total Positive Deaths from Phoebe Worth – 1
Total Vaccines Administered – 77,546
"We have seen another sharp increase in COVID-19 hospitalizations over the last few days.  Thankfully, the number of patients requiring intensive care and ventilation is not increasing as rapidly, and our average length of stay for COVID patients is shorter than with previous variants," said Scott Steiner, Phoebe Putney Health System President & CEO.  "However, we continue to care for patients who are critically ill, and deaths are still occurring.  Vaccinations and booster shots remain your best protections against serious illness, and we encourage everyone who is eligible for a booster dose to get that shot to protect themselves and help us keep people out of the hospital," Steiner added.
Based on the volume of COVID patients, Phoebe is instituting new visitor restrictions at all its hospitals.  Beginning Thursday, patients will only be allowed one visitor per day, and those visitors will not be allowed to return after leaving.  "During previous surges, we established trigger-points for various safety protocols.  Our COVID census is now at a high level, requiring us to minimize the number of people coming in and out of our facilities to protect our patients, staff and the community," said Dianna Grant, MD, Phoebe Putney Health System Chief Medical Officer.  Updates to the visitation policy and details on exceptions are available at phoebehealth.com.
As of Tuesday, Phoebe is accepting referrals for monoclonal antibody treatments for COVID-19 patients who fall into Tier 1 and Tier 2 of priority guidelines set by the National Institutes of Health.  Currently, the treatment is reserved for patients who fall into one of the following categories:
Severely immunocompromised
Unvaccinated and at least 65 years old
Unvaccinated and younger than 65 with clinical risk factors
"We hope to receive additional shipments of these medications soon, but the supplies are extremely limited.  We are making every effort to provide this treatment to those who need it most.  We will continue to evaluate our supply and demand daily, and we will open up the therapy to more patients as soon as we are able," Dr. Grant said.