Phoebe: not yet at latest Covid-19 surge peak
36% increase in COVID-19 patients in last week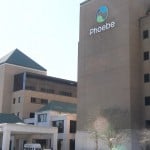 ALBANY, GA –  As of Friday morning, these were Phoebe's COVID-19 numbers:
Total COVID-19 Patients in Phoebe Putney Memorial Hospital – 149
Total COVID-19 Patients in Phoebe Sumter Medical Center – 25
Total COVID-19 Patients in Phoebe Worth Medical Center – 6
Total Inpatients Recovered – 3,600
Total Positive Deaths from Phoebe Putney Memorial Hospital – 416
Total Positive Deaths from Phoebe Sumter – 110
Total Positive Deaths from Phoebe Worth – 1
Total Vaccines Administered – 77,949
Phoebe hospitals have averaged 23 daily COVID-19 admissions during the last week, resulting in a 36% increase in COVID-19 patients over that period.  "Unfortunately, we have not yet reached the peak of this latest surge.  We are dealing with extremely high volumes in our emergency centers and our inpatient units as admissions continue to outpace discharges," said Scott Steiner, Phoebe Putney Health System President & CEO.  "We ask everyone to be patient when seeking care in an ER.  We understand waiting is difficult, but our teams are providing the care our patients need, as quickly as possible."
Phoebe is admitting more pediatric patients during this latest wave of cases than during previous surges.  So far in January, eight COVID patients under age 18 have needed inpatient care at Phoebe, compared to 26 during all of 2020 and 2021.  That means 24% of the total pediatric COVID-19 admissions have occurred in the last three weeks.
"We are definitely seeing a greater impact on children and adolescents with this surge.  As admissions have increased, we have also given monoclonal antibody treatments to more children who are ill with COVID but who do not require hospitalization.  And we are seeing more patients whose underlying conditions are being exacerbated by the virus," said Marie Jean-Baptiste, DO, Phoebe Pediatric Hospitalist.  "We encourage parents to have their children vaccinated and to be cautious around those too young to receive the vaccine, to minimize their chances of exposure.  While the vaccine doesn't completely protect against infection, it does help minimize the impact of the virus, and it has been proven safe for children," Dr. Jean-Baptiste said.
The Pfizer COVID-19 vaccine has been approved for everyone five years and older.  No COVID-19 vaccines have yet been authorized for children 4 years and younger.  Vaccine appointments at Phoebe locations can be made by calling 229-312-MYMD.
Phoebe also asks that everyone be understanding of visitation restrictions and abide by safety protocols at all Phoebe locations.  Those requirements include wearing a surgical mask provided by Phoebe, covered by a cloth mask.  "These protocols are necessary to protect our patients, staff and community.  Research shows double masking to ensure a tight fit offers enhanced protection, which is especially important as we deal with an extremely contagious virus variant," said Dianna Grant, MD, Phoebe Putney Health System Chief Medical Officer.  "Our dedicated and hardworking teams have been serving our communities under extreme stress for nearly two years.  We simply want everyone to treat them with the respect and appreciation they deserve, as we all work together to get through this pandemic," Dr. Grant added.