Noah Walters tosses a shutout, Cougars down Peach County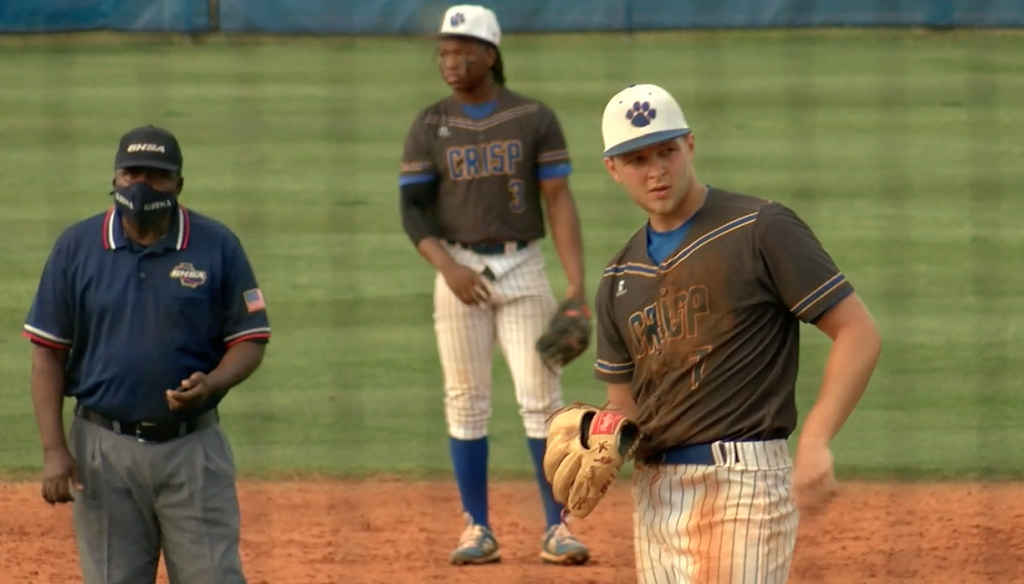 This was the Cougars first game back in almost a week. The last time out, Crisp County upset Mary Persons in Cordele.
It's the bottom of the first inning, Jack Carter up to bat, and that pitch gets away from the catcher. Noah Walters will scoot on in from third and the Cougars take the early lead. Who said pitchers can't run?
Later in the inning, Bryce Harrelson trying to get out of this jam for Peach County. Two down now, but Crisp still has a runner in scoring position. Greer Hawkins is at the dish for the Cougars. And that pitch freezes him up. He watches and that's a called third strike, and the Trojans escape the inning after giving up one.
To the top of the second, two down for Crisp County, Peach County is threatening with a runner on third. Carter muffs Walters' pitch and that ball gets away. Here comes Mike Kovich and it's a race to the plate. Carter flicks the ball back to Walters and the tag is dropped in time. He's out at the plate and the inning will end.
In the bottom half of the inning, Cougars with a runner on second and Noah Walters up to bat. He strikes out, but not before another run scores, Crisp County is in front, 2-0, after two innings.
To the top of the third now, Walters getting back to work with his infamous breaking ball. He doesn't even get a swing from the hitter, and that pitch will ring him up.
Let's stay in the same inning. Walters is in trouble. Peach has runners on second and third, but we have two outs. He looks, then delivers and he struck him out! Walters is locked in, he's through three innings with no runs allowed.
And in the bottom of the third inning, we have a hit and run on. The sophomore infielder takes matters into his own hands. Dylan Davis drives one and splits the gap in left-center, that ball will fall. Carter will score with ease, and the Cougar lead swells even higher. Crisp County baseball gets it done on senior night. The Cougars are six-to-nothing winners over Peach County.