More cheers along Lake Blackshear's shore
Blackshear Beverage cuts ribbon on new bottle shoppe in Crisp County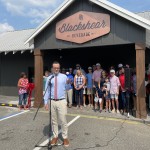 LAKE BLACKSHEAR, GA – It's safe to say things may get more festive along the shores of Lake Blackshear with a new bottle shop opening it's doors just inside the Crisp County line.
Friday, Cordele-Crisp Chamber of Commerce officials helped cut the ribbon on Blackshear Beverage.
The new family operated business is owned by siblings Wade & Wesley Hill, and sister Whitney Brown.
The three grew up on the lake and say their new venture should be a convenience for shoppers who previously had to drive miles into town for distilled spirits.