Missing woman in Sumter safely found
Sheriff Eric Bryant's update says Theresia Wiiliams has been seen safely recovered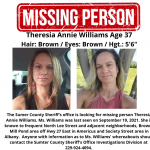 AMERICUS, GA – The Sumter County Sheriff's Office is updating the community with news that Theresia Annie Williams has been safely recovered.
Sumter County Sheriff Eric Bryant says his department was seeking to locate 37 year old who had not been seen since September 19th..
Sheriff Bryant's bulletin did not explain when or where Williams was found, only that the woman is now safe.
Williams is reported to frequent the North Lee Street area of Americus as well as adjoining neighborhoods as well as the Browns Mill Pond area off Highway 27.
She is also known to sometimes visit the Society Street area of Albany.
Anyone with knowledge of her whereabouts is asked to contact the Investigative Division of the Sumter County Sheriff's Office.
Their phone number is 229-924-4094.