Missing Colquitt police chief found dead
51 year old Kenny Kirkland was reported missing Wednesday; crash scene discovered later in evening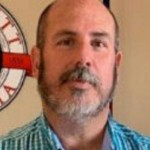 COLQUITT, GA – Final arrangements are being made for late Colquitt Police Chief Kenny Kirkland, who was found dead at a single vehicle accident scene late Wednesday night.
Kirkland had been reported missing earlier in the day after he reportedly failed to attend a speaking engagement.
A search ensued through Miller County and Kirkland was found hours later in his vehicle, which had left the roadway, obscured from sight.
It's believed Kirkland may have suffered a medical episode or heart attack prior to the accident.
Kirkland had served as Colquitt's Police Chief since May of last year.