Governor suspends Cordele city commissioner
Cordele City Commissioner Royce Reeves is suspended until case is complete or term expires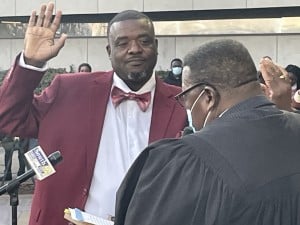 CORDELE, GA – Cordele City Commissioner Royce Reeves was suspended from his duties late Friday by an executive order handed down from Governor Brian Kemp.
It stems from a Cordele fatal traffic accident back in June, where Reeves is alleged to have shoved the investigating Georgia State Patrol Trooper on scene.
In August, a Crisp County grand jury returned five indictments against Reeves for his June 12th arrest at the traffic accident, including  two counts of felony obstruction of an officer, violation of oath by a public officer, criminal trespass and disorderly conduct.
Reeves was trying to get to the scene where a lifelong friend, 47 year old Adonis Smith ultimately died in a motorcycle collision.
In announcing Reeves suspension from office, the Governor's executive order says the review board found that the charges can adversely affect his duties in office.
Our attempts to reach Commissioner Reeves for comment have gone unanswered.