Four senior citizens die in Worth head-on collision
GSP confirms Saturday accident on GA-112 at North Road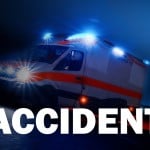 SYLVESTER, GA- The Georgia State Patrol is confirming Saturday's fatal accident in Worth County where four senior citizens perished in a head-on collision.
Lieutenant Mark Riley, Public Information Director for Georgia's Department of Safety, provided South Georgia Television News the accident report which lists the names of the accident victims and a brief synopsis of the initial findings of the investigation.
According to the report, the accident happened right around noon Saturday on Georgia 112 at the North Rd intersection.
An automobile listed as a Toyota Camry is believed to have crossed the center line and into the path of an oncoming Chevrolet.
The deceased have been identified as 85 year old Catherine Poke, 83 year old Rosa Johnson, 78 year old Bobbie West and 71 year old Michael Hall.
Hall was listed with a most recent address of Sylvester.
Poke, Johnson and West all hailed from Ashburn.
The investigation into the accident is continuing.