Fire erupts at Norbord production plant
Flames were visible for Highway 280 travelers Tuesday night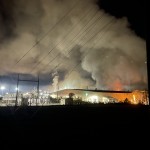 CORDELE, GA – Multiple fire units are on the scene at Cordele's Norbord production plant Tuesday night after a reported fire within the facility.
Cordele & Crisp County Fire arrived on the scene shortly after 8pm, but reportedly could only access a single unlocked gate.
Multiple plumes of smoke could be seen from nearby Highway 280, only one section of the plant was visibly aflame from the roadway.
There are no initial reports of injuries as of now.
More details as they become available here on South Georgia Television News.