Fatal ATV accident investigated in Crisp
Crisp County first grader dies in rollover accident Thursday night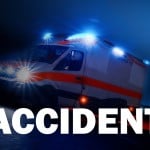 CORDELE, GA – Final arrangements are being made a Crisp County child who was killed Thursday night in a fatal all terrain vehicle accident.
Crisp County Sheriff's Department's Public Information Officer Haley Wade says they got the call for help a little after 7pm to a Penny Lane address where the accident victim was found and transported to Crisp Regional Hospital.
Sadly, the injuries suffered were too severe and lifesaving efforts proved unsuccessful.
Witnesses say the ATV inadvertently rolled over, crushing and pinning the child underneath the vehicle.
Crisp County Sheriff Billy Hancock extended his condolences to the surviving family. "My thoughts and prayers go out to the family and friends affected by this tragic accident," stated Sheriff Billy Hancock.
Officer Wade says no additional victims were involved in the accident.
The Crisp County Sheriff's Office, Crisp County Fire Rescue, and Crisp County Emergency Medical Services were the responding agencies to this accident.