Family and friends of Councilman Larry Johnson discuss last days
(SYLVESTER, GA) – Family and community members in Sylvester are paid their last respects to Councilman, Larry Johnson before his funeral this weekend. We spoke with his widow, Tangela about his COVID experience.
She told us earlier in the week, "He fought a long fight, and he fought as long as he could…Keep the family and the community in prayer that we can move forward."
Councilman Johnson passed away following a bout of COVID-induced pneumonia.
Sylvester Mayor, Charlie Jones spoke about Larry's condition in the days leading up to his passing.
"He was in Tift Regional Hospital. He was apparently doing a little better, but then his condition took a turn for the worse," said Jones.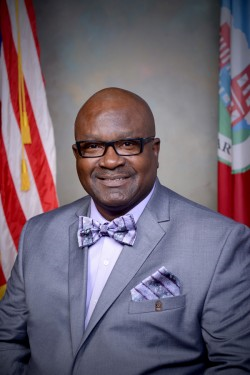 Whether it's family or friends, Councilman Johnson's last days in dealing with COVID-19 should be seen as not just the loss of a beloved member of a community, But as a sign to anyone out there to continue treating the pandemic seriously.
"This virus is something that we really don't understand, and we don't really know how to deal with it. We're doing the best we can, but sometimes it takes the best of us," said Mayor Jones
Ted Sadler, who knew Councilman Johnson for years told us during his vigil, "You can't begin to compare, and can't begin to replace him. We're just at a loss right now, because he was the best public servant."