Ellianos goes pink for October's breast cancer awareness month
Coffee customers who post to social media can help fund research against the disease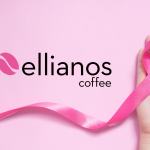 CORDELE, GA – Ellianos Coffee is stepping into the ring to battle breast cancer.
Coinciding with Breast Cancer Awareness Month, the South Georgia and North Florida based coffee shop says it wants to help fund the Breast Cancer Research Foundation.
Beginning Monday October 18th and through the end of the month, your favorite Ellianos beverages will be adorned with a pink lid to raise awareness.
The company is asking it's customers to post a photo to social media with their Ellianos cup and use the hashtag #EllianosCares.
For each post, Ellianos will donate $1 to the BCRF.
According to the American Cancer Society, breast cancer affects about 1 in 8 women and about 1 in 833 men, with more than 300,000 new cases diagnosed every year.