Dawson's Golden Triangle sponsors 10th annual "Barney's Run"
This year's run will consist of a half marathon (new to the 2022 run), 10k, 5k, and one-mile fun walk/run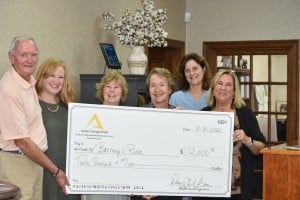 ALBANY, GA –  Golden Triangle RC&D, based in Dawson and serving 15 Southwest Georgia counties, is the title sponsor for the 10th Barney's Run for Warriors on Saturday, October 22, from 8 a.m. to noon in the Lake Park and nearby neighborhoods of Albany.
Barney's Run and Golden Triangle each support K9s for Warriors, which rescues dogs and trains them to be service dogs for veterans affected by PTSD. These dogs give healing and independence to the warrior graduates, said Lois Hunkele, an Albany veterinarian who co-chairs Barney's Run. Anna Hendley, Phoebe's marketing account manager, is the other co-chair.
"Golden Triangle's membership and board are proud to sponsor such a worthy endeavor for the men and women who put their lives in danger to protect us each and every day," said Rhonda Gordon, executive director of the 501(c)(3) organization. The RC&D in the Golden Triangle name stand for resource, conservation, and development. Golden Triangle is made up of volunteers and local leaders who identify problems, develop strategies, and implement beneficial programs and projects in its member-county area. The organization also collaborates with state, federal, and local agencies to accomplish its mission.
"When we began Barney's Run 10 years ago, $12,000 provided training for a rescue dog and his or her warrior, usually a veteran from our SWGA area," Hunkele said. "That price more than doubled early on. Still, thanks to generous corporate sponsors and individuals, we have been able to purchase two dogs following the past several runs. To date, 12 rescue dogs and wounded warriors have been matched and four more are waiting, for a total of 16.
"The title gift for our 10th run was $12,000, and we salute Golden Triangle," Hunkele said. "To date, corporate sponsors and individuals have given over $28,000 for the 2022 Barney's Run."
The fees from runners also go to K9s for Warriors. Runners may register online at Raceroster.com or onsite the morning of the run. The site is the Albany Board of Realtors campus on Lake Park Drive.
This year's run will consist of a half marathon (new to the 2022 run), 10k, 5k, and one-mile fun walk/run. T-shirt registration deadline is October 6. Medals will be given to the 10k and 5k runners, male and female. There will be finishing medals for the 13.1 and one-mile runs.
Medals will be given to the top three male and female finishers in the 16-age groups for the 10k and 5k.
The Best American Spirit School Award will be given to the school with the most participants in the four races—the 13.1, 10k, 5k, and one-mile run/walk. The age groups are 6-9, 10-14, 15-19, 20-24, 25-29, 30-34, 35-39, 40-44, 45-49, 50-54, 55-59, 60-64, 65-69, 70-74, 75-79, and 80+.