COVID-19 continues to take lives in Dougherty County although positivity rate declines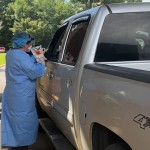 ALBANY, Ga. – Encouraging news and statistics coming out of Friday's COVID-19 task force meeting. Dougherty county's positivity rate is at an all time low. However, community leaders are urging people to stay vigilant since there's been additional COVID-19 deaths in the county.
"This virus remains with us and as a result we have to remain vigilant," says Albany Mayor Bo Dorough.
Dougherty County has come a long way in their battle against COVID-19, and in the process have lost 187 residents. With two new COVID-19 deaths occurring so far this month. A milestone, actually, considering that in five of the last eight months Dougherty County was losing residents to COVID-19 complications in the double digits. While the progress has been impressive, the pandemic rages on.
"This is no time to let down our guard and certainly, there's no place for complacency at this point and I want to reiterate the fact that this is a very, very contagious virus," says Phoebe Chief Medical Officer Dr. Steven Kitchen.
So contagious, that in mid-March, Dougherty County had a positivity rate of 42%.
"You want to get it under 5%," says Dorough, "We've had that declining positivity rate since the height of the resurgence in late July, now we're at 4% which is very promising and again, something that the community should be very proud of."
Dr. Kitchen adds that proper hand hygiene, donning masks and limiting gathering or distance has helped the community have some sort of control over this novel virus. 
"There's no question that our understanding of this virus and this disease and how to effectively treat it fortunately has evolved."
The COVID-19 task force meeting in its entirety is below: