Cordele's Concerned Citizens That Care look ahead to 20th Thanksgiving event
Group thanks sponsors and volunteers who help feed up to 200 hungry area families this holiday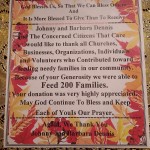 CORDELE, GA – A few hundred people around the South Georgia area will be enjoying a holiday meal they likely wouldn't, if not for Cordele's Concerned Citizens That Care.
For the 19th consecutive year, the community minded group has been preparing food boxes for deserving families who might go without the usual turkey and trimmings in Train Town.
Vice President Barbara Dennis listed the box inventory that could feed a family well for the actual holiday and beyond, not to mention the fine sized frozen turkey itself.
They're already looking forward to next year's event, which will mark their 20th year of Thanksgiving tidings to the community.
Dennis wanted to emphatically thank all the sponsors, volunteers and local Boy Scouts who helped make this year's distribution a success.