Cordele Police arrest bank robbery suspect within minutes
Suspect sought in First Planters Bank incident was captured in nearby apartment complex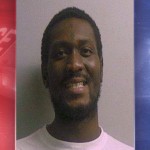 CORDELE, GA – In just his second day on the job as Cordele's Chief of Police, Mike Hathaway has to be impressed with his new department.
Tuesday morning following the robbery of the First Planter's Bank in Cordele, Cordele Sergeant Michael Telfair and his partner identified the suspect, tracked him to his residence and arrested him, and also recovered an estimated $5,000 stolen in the heist. All in less than 15 minutes.
Police say they responded to the bank located on 16th Avenue right around 10:05 am in search for a robbery suspect, described as wearing black shorts, a red shirt and red shoes.
Chief Hathaway and Sgt Telfair say reviewing the bank's surveillance system, they gleaned the identity of the suspect, who is now identified as 25 year old Donald Wellons of Cordele.
Telfair says the suspect lived just minutes away from the bank and ran home with his loot as officers quickly tracked him to the apartment.
Chief Hathaway says while inside the bank, the suspect acted as if he was armed while providing a demand note for money from the bank teller.
Sgt. Telfair says he's familiar with Wellons and his criminal history, as Telfair previously worked for the Crisp County Sheriff's Department and came into contact with the suspect then.
Wellons is currently being processed into the Crisp County Detention Center as of this report.