Colquitt's 2022 Hope Film semi-finalist
Recent graduate Maggie Bishop makes the cut for Hope Film Challenge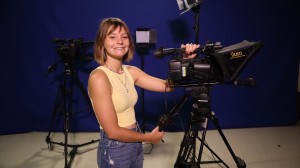 MOULTRIE, GA – Maggie Bishop, a 2022 graduate and video broadcast student at Colquitt County High School, was named a semi-finalist in the 2022 Hope Film Challenge.  The Atlanta-based nonprofit Hope Givers launched the film contest to combat the isolation and mental health challenges COVID-19 has brought to students and educators across the country. According to the contest website, "the Hope Film Challenge supports student filmmakers in producing short film content to practice their craft and further develop their storytelling capabilities."
Contest participants were asked to submit a short film (30-90 seconds) that addresses one of many physical, social, and emotional challenges faced by students. Video submissions were due in the spring and judged by a panel of experts in the film production industry. Each video was judged on the hope it offers viewers, the resilience the story showed, the craft and creativity of the video, and the overall feel the viewer received after viewing.
Maggie's film was based on her experience with alopecia, an autoimmune disorder that causes hair loss, and how swimming gave her hope. Maggie swam competitively for years and was involved in many other school activities. As told by her in the video, her story inspires others who may be facing similar issues as young teens. Maggie graduated from Colquitt County High School in May and is planning to attend Piedmont University in the Fall on a swimming scholarship and major in film and video production.
Colquitt County High School offers several pathways for students interested in the arts, including audio-video technology, film production, web and design media, drama, band, choir, and art. To learn more, speak to your child's high school counselor.