Colquitt Regional expands hospitalist program to pediatrics
New group of pediatric hospitalists brings over 65 years of pediatric experience to Moultrie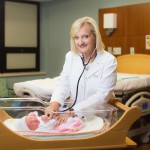 MOULTRIE,  GA – Colquitt Regional has expanded its current hospitalist program to include pediatrics, which began on July 1.

Pediatric hospital medicine is a medical subspecialty that is dedicated to the delivery of comprehensive medical care to hospitalized pediatric patients by pediatric hospitalists. They are responsible for the day-to-day care of patients, which involves diagnosis, treatment, and necessary medical procedures while in the hospital.
Pediatric hospitalists work with a patient's pediatrician or family physicians to provide high-quality care for children in the hospital in a way that is comfortable and reassuring for children and their parents. These hospitalists will also communicate with other pediatricians and family medicine providers who care for the patient in a clinic setting.
"While we have always provided inpatient pediatric care, adding a specialized team of pediatricians will allow us to provide a greater level of pediatric care," said Colquitt Regional President and CEO Jim Matney. "This new team of doctors will allow us to expand our capabilities and keep more children here in our community."
Introducing this program will help relieve the burden of parents having to travel to receive necessary care for their children.
In 2012, Colquitt Regional transitioned to a hospitalist-based model of care for adult inpatients while continuing to care for pediatric inpatients by utilizing local pediatricians and family medicine providers. The hospitalist program at Colquitt Regional has grown to include 12 hospitalists, three nurse practitioners, and now three pediatric hospitalists.
The pediatric hospitalist team will be led by pediatrician Debra Selby, MD, who will serve as medical director for the program. Working alongside Selby will be longtime Moultrie pediatrician Patricia June, MD, and Lacey Chambers, MD.
Selby attended West Virginia University, where she received her bachelor of arts degree in biology, then attended medical school at WVU School of Medicine, followed by a residency at West Virginia University Hospitals, Inc.
Selby has over 30 years of experience in pediatrics. She and her husband relocated to Moultrie in 2019 when she joined the Colquitt Regional medical staff as a pediatrician with CareConnect Pediatrics.
June attended Duke University, where she received her bachelor of science degree and then went on to receive her medical degree from Emory University. Continuing her training, she carried out residencies in both internal medicine and pediatrics.
June has been part of the medical staff at Colquitt Regional for over 35 years.
Chambers also attended West Virginia University, where she received her bachelor of science degree in biochemistry. She then went on to medical school at Joan C. Edwards School of Medicine at Marshall University, followed by a residency in pediatrics at Dayton Children's Hospital.
Chambers recently moved to Moultrie with her husband and daughter.
The pediatric hospitalist team will also play an integral role in training the residents at Georgia South Family Medicine Residency Program. Georgia South residents provide pediatric care in the clinic setting and also complete pediatric rotations in the hospital. This expanded service will give them more opportunities to gain hands-on experience with pediatric patients.
"The new group of pediatric hospitalists brings over 65 years of pediatric experience to Colquitt Regional," said Colquitt Regional Vice President of Patient Services Dena Zinker. "We have allocated all the necessary resources, equipment, supplies, and training to ensure that we are well-equipped to take care of our patient base."
For more information on the pediatric hospitalist program, please contact the Colquitt Regional marketing department at 229-890-3552 or visit colquittregional.com.