Cases jump as Phoebe discharges longest Covid patient
Jorge Torres was discharged after spending 206 days in the hospital, Phoebe's longest patient stay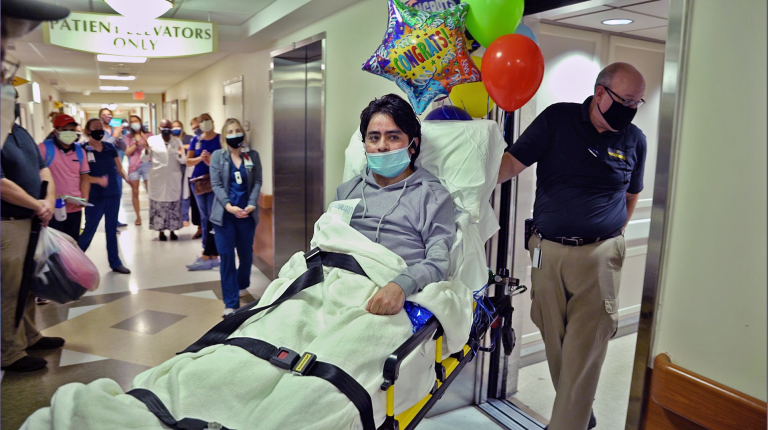 ALBANY, GA – As of Friday morning, these were Phoebe's COVID-19 numbers:
Total COVID-19 Patients in Phoebe Putney Memorial Hospital – 30
Total COVID-19 Patients in Phoebe Sumter Medical Center – 9
Total COVID-19 Patients in Phoebe Worth Medical Center – 2
Total Inpatients Recovered – 4,446
Total Positive Deaths from Phoebe Putney Memorial Hospital – 464
Total Positive Deaths from Phoebe Sumter – 126
Total Positive Deaths from Phoebe Worth – 1
Total Vaccines Administered – 81,302
After a couple of weeks of declining numbers, COVID-19 hospitalizations at Phoebe are up 28% over the last week.
"While we do not think that increase is an indication that a major surge is imminent, it is more evidence that the pandemic is not over, and we must continue to take the threat of the virus seriously," said Dianna Grant, MD, Phoebe Putney Health System Chief Medical Officer.  "We know masks are no longer required at school, but we encourage parents to make sure their children wear masks as they return to class, and we hope parents will get their children vaccinated to help prevent COVID illness," she added.
Vaccines are available for everyone six months of age and older.  Vaccine appointments at Phoebe can be scheduled by calling 229-312-MYMD.
Thursday, the Phoebe Family celebrated one patient's amazing recovery from COVID.  Jorge Torres, 36, was discharged after spending 206 days in the hospital – a longer stay than any other COVID patient at Phoebe.  Torres had no history of medical problems when he was admitted with COVID in January.  Nevertheless, he suffered critical illness from COVID and spent more than four months on a ventilator.  In March, Phoebe's critical care team even brought him back to life when his heart stopped.
"I am happy.  I thank everyone who took care of me.  The nurses who took care of me, who were in charge of my care – I thank you very much," Torres said through a translator.
Dozens of Phoebe Family members gathered to celebrate his discharge, lining the hallways as Torres left his hospital room.  Several of his nurses presented him with a framed picture of him with members of his care team, and an environmental services worker sang "Amazing Grace."
"Mr. Torres's will to survive and recover is a triumph of the human spirit.  He became a beloved patient to the nurses and other team members who cared for him, and many of them describe his recovery as a miracle," said Scott Steiner, Phoebe Putney Health System President & CEO.  "We celebrate his incredible recovery, and we are grateful for the dedicated Phoebe Family members who continue to provide outstanding care to COVID patients two and half years into the pandemic."
Members of Torres's family were there for the celebration and will help him continue his recovery at home.