Cannon's criminal charges dropped
Fulton prosecutor declines to pursue case against Albany native & Georgia lawmaker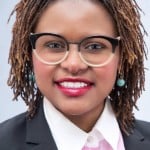 ATLANTA, GA –  Georgia lawmaker and Albany native Park Cannon will not be prosecuted following her arrest nearly two weeks ago outside the door of Governor Kemp's office as he signed the state's new election reform measures into law.
Wednesday, Fulton County District Attorney Fanni Willis said she'd not pursue prosecuting Cannon, but rather closing the case.
"While some of Representative Cannon's colleagues and the police officers involved may have found her behavior annoying, such sentiment does not justify a presentment to a grand jury of the allegations in the arrest warrants or any other felony charges," said Willis.
Cannon was facing two felony charges and up to eight years in prison if convicted.