Bishop votes to approve Build Back Better Act
The bill authorizes $1.7 trillion in programs over a 10-year period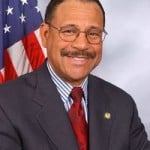 WASHINGTON, DC – Today, Congressman Sanford D. Bishop, Jr. (GA-02) made a commitment to a historic investment in American families by helping secure passage of H.R. 5376, the Build Back Better Act. The bill addresses housing, healthcare, and education and provides investments in our national security, veterans, and our rural communities. The bill was designed to help working families meet the challenges they face every day — by creating more affordable child care, Pre-K, and housing as well as providing clean water and lowering prescription drug prices. The bill was adopted by 220-213 vote and now heads to the U.S. Senate for consideration.
The bill authorizes $1.7 trillion in programs over a 10-year period. According to the lead rating agencies, including Moody's Analytics and Fitch Ratings, this bill will not add to current inflationary pressures and is expected to add to America's labor supply.
"Earlier this week, our monumental commitment to repair and modernize our physical infrastructure became law. Today it is matched by our historic investment in America's families," said Congressman Bishop. "The Build Back Better Act addresses the challenges that families face today — from soaring prescription drug costs to needing child care as more and more families have all parents working to put food on the table. This bill bolsters programs that train and bring more physicians and nurses to our rural communities so families can get the care they need closer to home."
"The Build Back Better Act supports crucial national security and scientific research programs to maintain our dominance on the world stage in the face of challenges from Russia and China. It also honors the debt we owe to our veterans by committing more resources to fix and improve our aging Veterans Administration hospitals," the Congressman added.
The bill is paid for by having big multinational corporations and the wealthiest pay their fair share as well as closing tax loopholes they can exploit. The bill was designed so that no one making under $400,000 will pay more in taxes and provides tax breaks for middle-class Americans.
Like the American Rescue Plan — which Congress passed in March of this year and has already provided Georgia with billions of dollars to help residents recover from COVID-19 — many of the programs authorized by the Build Back Better Act will provide funds to Georgia's state departments and agencies in order so that it can better meet families' needs. Local governments, nonprofit organizations, business owners, and families can directly apply to the federal government for other programs included in the bill.
The Build Back Better Act helps America's families by improving:
Healthcare — by closing the Medicaid coverage gap to help millions of people across the country get healthcare insurance, including 269,000 Georgians; directing Medicare to cover the costs of hearing aids for our seniors; and reducing the cost of prescription drugs, like insulin, by letting Medicare negotiate better prices. Nearly 1.8 million Georgians are enrolled in Medicare. As part of the bill, insulin costs would be capped at $35 a month helping reduce costs for the 1 in 10 adults in Georgia who have diabetes. For the first time ever, this bill will cap out-of-pocket spending of prescription drugs at $2,000 per year for seniors that use Medicare Part D. The CBO estimates that the prescription drug prices provisions will save the federal government $297 billion over 10 years.
Childcare and Education — by providing roughly $390 billion to lower the cost of child care and provide universal Pre-K for three- and four-year old children and ensuring that a majority of Americans will not pay more than 7% of their income on child care. In Georgia, that can help over 190,000 children access free, high-quality Pre-K education and provide child care to more than 665,000 children. Also, $10 billion is allocated for child nutrition programs that will provide school meals to 9 million students.
Higher Education — by increasing the maximum Pell Grant award by $550 per student, which will help more than 195,000 students in Georgia who rely on Pell grants; and providing $1 billion for Minority-Serving Institutions, including Historically Black Colleges and Universities, Tribal Colleges and Universities, and Hispanic-Serving institutions of which there are 38 in Georgia.
Housing — by providing $25 billion to construct, purchase, and rehabilitate homes for low-income families as well as $500 million, each, to develop supportive housing for the elderly and those with disabilities. Also, it injects $3.05 billion into Community Development Block Grant funding for affordable housing and community infrastructure upgrades as well as $100 million for rural rental assistance. These and other housing programs in the bill can help the more than 650,000 renters in Georgia who spend more than 30% of their income on rent as well as help make home ownership more achievable.
Water Quality & Energy Grid — by providing $2.125 billion for sewer and wastewater projects as well as to improve home water systems. Also, it commits $16 billion to rural communities to modernize their energy and water systems — including lead pipe removal and remedies.
Access to Capital for Small Business and Rural Entrepreneurs — by providing almost $2 billion for a Small Business Administration direct loan program for the smallest businesses as well as $275.9 million for the Community Advantage Loan program, which particularly supports small businesses in underserved markets. Also, the bill creates a $1 billion Rural Partnership Program for flexible grant funding for job growth and economic resilience in communities impacted by climate change as well as provides $10 million for Rural Small Business Conferences.
Veterans Facilities and Services — by providing $2.3 billion to help the Veterans Administration (VA) update its clinics and medical facilities. There are over 35 VA facilities in Georgia, including over a half dozen facilities in Middle and Southwest Georgia that can be helped by these funds. Also, $268 million to train physicians and healthcare professionals to serve in VA facilities and $150 million to speed up scanning of backlogged veteran records.